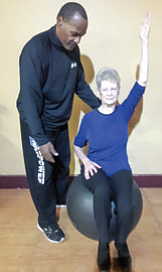 Mark Bryant with Dorene Cropley. "This exercise helps with muscle stability and balance, it improves coordination and posture. Dorene is sitting on the Fit-Ball, lifting her left arm at the same time she lifts her right knee. It's harder than it looks!" says Mark.
Stories this photo appears in:

Mark Bryant is a popular fitness instructor and powerlifting champion who lives and works in Seattle's Columbia City neighborhood. He also writes a monthly senior fitness tip for Northwest Prime Time.