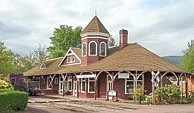 24/7 Wall Street called Snoqualmie Washington's best city to live. Snoqualmie is one of safest places in the nation, plus it has a higher than average concentration of restaurants, bars, museums and movie theatres for a city of its size.
Stories this photo appears in:

Northwest Prime Time's annual round-up of Best Places to Retire in Washington State is upon us. Reporting from the usual suspects— Forbes, MoneyWise, Kiplinger, Where to Retire, WalletHub, TopRetirements and others— shows Washington retirement destinations falling off many national lists.