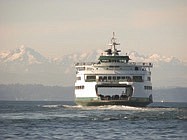 In Where to Retire, Jean Arthur described Bainbridge Island as a wonderful place to retire for those with the means: sophisticated and friendly, social and volunteer opportunities, outstanding parks and a high balance of cultural outlets for a community of its size.
Stories this photo appears in:

Northwest Prime Time's annual round-up of Best Places to Retire in Washington State is upon us. Reporting from the usual suspects— Forbes, MoneyWise, Kiplinger, Where to Retire, WalletHub, TopRetirements and others— shows Washington retirement destinations falling off many national lists.