Tugboat Annie & Seattle's Silver Screen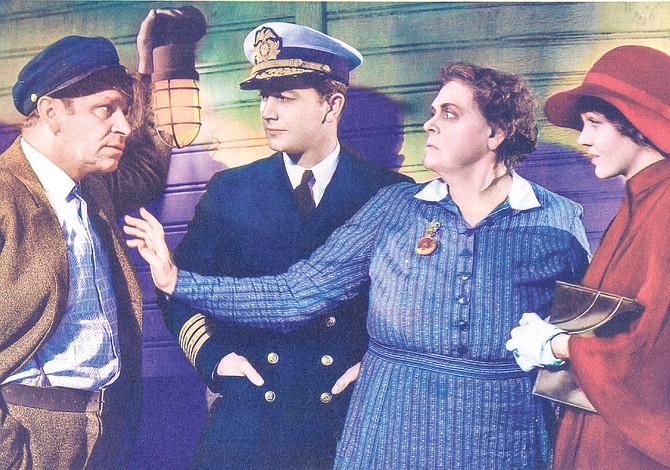 The smash hit 1930s film was the first Hollywood movie to feature the Emerald City
In this age of tech, we often forget that Seattle is a seaport. Our self-image was forged on the waterfront, from ferries to fishing boats, schooners to container ships, we have a Puget Sound maritime heritage all our own.
And one salty character spread that image far and wide. She was popular in print, on the silver screen and TV. She was "hearty, humorous and hard-boiled." Meet Tugboat Annie.
People of a certain age might remember Annie. She was tough, plus-sized and middle-aged, with a heart of gold and a hearty appetite. She lived and worked in the mythical town of Secoma on Puget Sound aboard her working tugboat, The Narcissus.
In the midst of the Great Depression, she held her own — hauling lumber, towing ships and outfoxing her competitors. The rough-and-tumble waterfront of the 1930s was a kind of last frontier for a maritime industry transitioning from sail to steam to diesel. Annie was a liveaboard entrepreneur who survived by her wits and nautical know-how, a kind of homesteader claiming a life at sea with the reality of Hooverville on the tide flats just a short swim away.
Annie was the literary creation of a writer named Norman Reilly Raine, a World War I veteran turned writer who came to Seattle in 1930 to teach short story writing at the University of Washington. While here, he was inspired by the people and stories on the waterfront, and he began publishing humorous stories about the plucky Tugboat Annie in the Saturday Evening Post, alongside stories by F. Scott Fitzgerald, P.G. Wodehouse and Agatha Christie.
The context of the era was tailor-made for a seagoing superheroine: Seattle had recently elected its first female mayor— and the first of a major American city—Bertha Knight Landes, who had fought her way through the man's world of city politics. Annie had Bertha's kind of grit.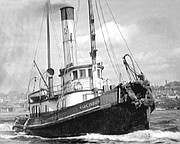 In Tacoma, Raine became aware of the legendary Thea Foss, only recently deceased. She was a Norwegian immigrant who — starting with a humble rowboat — had launched Foss Tugboat company into the largest tug and barge outfit on the West Coast. Raine's Tugboat Annie was a tough, working class woman, but she was more. She was street-smart in the ways of the waterfront. In story after story, she outsmarted her unsavory competitors. Her main nemesis was Horatio Bullwinkle, a tugboat interloper from (where else?) California who used every dirty trick to put Annie out of business. She usually prevailed, however, with her can-do attitude. As she says to Bullwinkle, "Ye may be an authority on what can't be did, but ye're not one on what can be."
She's a bit like a female version on Popeye, but instead of eating spinach to gain strength, she uses her wits to beat the bullies. Like Thea Foss, she had a head on her shoulders for the business.
As Raine wrote his stories, he began to imagine the Oscar-winning silent and Depression-era film star Marie Dressler as Annie. MGM studios decided to make a movie based on the Tugboat Annie stories starring Dressler and Wallace Beery as her drunk of a husband. In the film, Annie has to overcome the trials of the tugboat trade and the burden of a marriage to a childish sot who makes everything more challenging.