Step into Middle Earth with a visit to Hobbition
Travels with Deb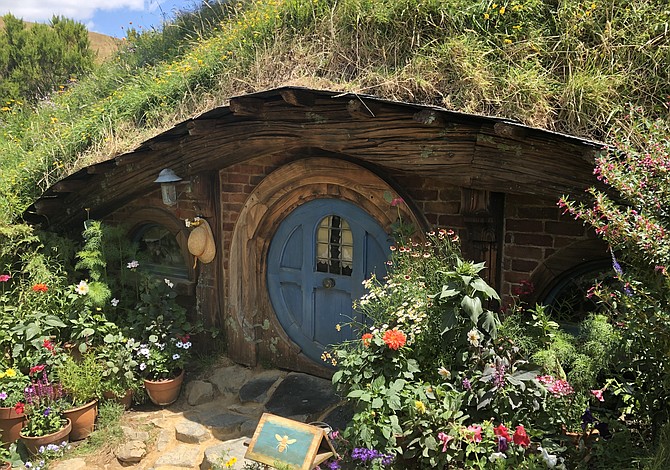 I'm a petite, or if you must say, short woman. At 5 feet two (on a good day!), I'm height-challenged. If I don't have a stepstool, I'm at the mercy of asking others to help me reach those unattainable objects. In crowds, I'm constantly jumping up and down to see what's happening, or trying to inch my way under and around everyone's elbows. And I always have to take up the hem on my pants.
Being short, however, is a plus when you visit Hobbiton in New Zealand, the famed movie set home of J.R.R. Tolkien's hobbits. You know, the happy-go-lucky ones with chubby cheeks and wide grins, who like to tell jokes and drink ginger beer, rather than stress over the state of the world.
I've always been a fan of the well-known author's books for many years, and an equally ardent aficionado of the movies made from his novels. They enveloped me in a world of good versus evil fantasy with a slew of memorable characters and wild adventures. And of course, I identified with the "little folk." So, naturally I put Hobbiton down on my itinerary as soon as I knew I was going to New Zealand.
The Hobbiton Movie Set is a must for fans of "The Hobbit" and "The Lord of the Rings" trilogies. It's the country's only set left from the movies and attracts nearly 650,000 tourists and wannabe hobbits a year. But, even if you're not a fan of the books or the movies, you're going to enjoy the experience because it's such an enchanting place. The scenery alone is worth the trip, as it's true New Zealand bucolic, framed by the towering Kaimai Ranges in the distance. And as a bonus, you'll be able to say that you were on the only living movie set in the world.
The site is near the village of Matamata, about 110 miles southeast of Auckland on New Zealand's North Island. It's actually a working sheep farm, owned by the Alexander family. Story has it that back in September 1998, "Lord of the Rings" director Sir Peter Jackson was up in his helicopter trying to find the ideal location for the Shire – the iconic home to the hobbits. Once he saw the Alexander's property with its pastoral setting, complete with rolling hills and lush green pastures, he knew it would be perfect. It bore a striking similarity to Tolkien's description of the Shire, and it was untouched – no power lines, no roads or buildings in sight – which meant that Jackson could create Middle-earth in all its fanciful glory.
Jackson found the owner's house and knocked on the door, but unfortunately, the owner was watching rugby and told the director to go away in no uncertain terms. Jackson later returned and to make a long story short plus a few years, some money and lots of manpower (including the New Zealand Army), Hobbiton was born.
The twelve-acre set was initially made of untreated polystyrene and other non-permanent materials. Once Jackson was finished filming, most of the structures were torn down. And when curious tourists came, eager to get a glimpse of this much beloved site, they had to use their imagination as to what the set looked like before being stripped to its bare bones.