The Grand Charles Johnson: Notable author muses on 'the art of living' in his book 'GRAND: A Grandparent's Wisdom for a Happy Life'
Notable author muses on 'the art of living' in his book 'GRAND: A Grandparent's Wisdom for a Happy Life'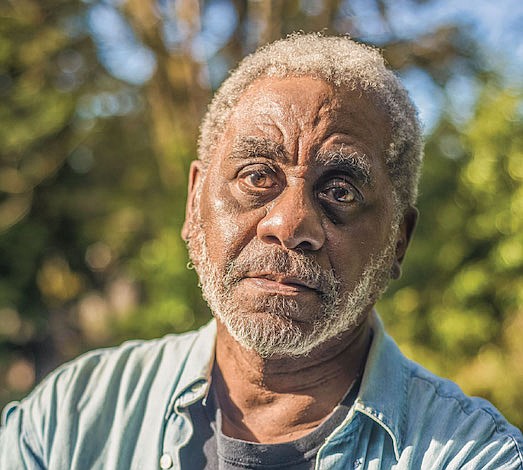 GRAND is a new book reflecting on the joys of being a grandparent. Written by Seattle's own Charles Johnson—National Book Award winner, MacArthur Genius Fellow and University of Washington professor emeritus—it has been described as a warm, inspiring collection of wisdom and life lessons that grandparents and parents alike will cherish. "And of course it's for our grandchildren, too, when they're old enough to read and understand its contents," says Dr. Johnson.
In the book, Johnson presents advice to his grandson and other children of his generation through "ten fertile and essential ideas for the art of living." He offers the thoughts "tentatively and with great humility"—admitting that "grandfatherly advice is as plentiful as blackberries."
Still, who wouldn't sit up and take notice of a new book by the celebrated Dr. Johnson. GRAND is his 25th book. His 1990 novel, Middle Passage, a retelling of the slave narrative that deeply impacted modern audiences, won the National Book Award.
Dr. Johnson began his career as a political cartoonist and illustrator in the 1960s and published his first novel, Faith and the Good Thing, in 1974. He earned a doctoral degree in philosophy, attracting accolades, awards and international attention for his work, including the honor of a postage stamp carrying his portrait.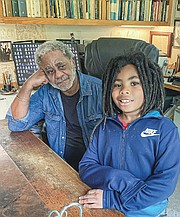 Dr. Johnson says GRAND was inspired by an essay he wrote for 3rd Act magazine, a local publication for seniors. He tells us that one of his greatest pleasures is watching his grandson Emery discover the world around him.
Emery, it seems, considers that his grandfather's study—his esteemed, accomplished, scholarly grandfather's cluttered study—is really his office, a place to play video games on his grandfather's computer, to write and draw, to do schoolwork and practice music. He "regales me with stories about himself and his friends...a friend of mine calls him my 'mini-me,'" Johnson tells us in his 3rd Act essay.
That same office was designed by two architects to be Johnson's workspace, a place to contemplate and ponder, to write and draw while surrounded by literature in floor-to-ceiling bookshelves. It is a place for meditation (and also includes "grown-up toys to delight an old sci-fi and comic book fanboy like me," says Johnson). It contained everything he needed each day to be inspired.
"But eight years ago," writes Johnson in the introduction to GRAND, "my grandson Emery was born," and Dr. Johnson found a new reason to be inspired.
"I watch in wonder as he, a beautiful and brilliant boy who feels at home in a room of books and artistic tools, takes over my workspace for his projects..."
GRAND is not the first time that Emery took centerstage in a book by Johnson. "[Emery] knows that the main character in the middle grade series of books I coauthor with his mother, The Adventures of Emery Jones, Boy Science Wonder, is named after him. He tells me what he thinks should happen to Emery Jones in the books to come..."
In GRAND, Dr. Johnson paints a picture of Emery as bright and curious, creative and confident.