Living under Lockdown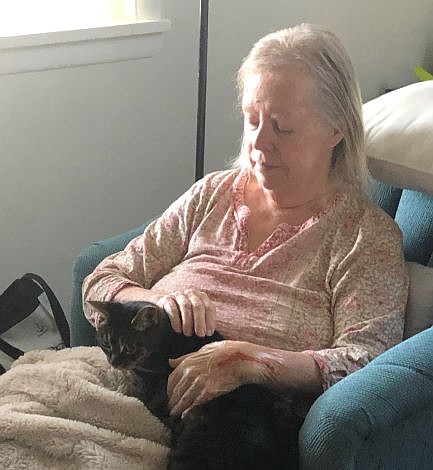 By Maddie Smith
The COVID-19 pandemic has altered the way of life for almost everyone. There is plenty of news in the media about the medical and economic effects of the pandemic, but what does it mean for personal and familial relationships? People who live in long-term care facilities are a particularly vulnerable population in regards to physical and emotional isolation. Most care facilities are under a lockdown right now, meaning residents are not allowed to have any visitors or leave their room. For many, this experience is as emotionally isolating as it is physically. I sat down with my grandmother, who I call Baba, to chat about her experience in a long-term care facility under lockdown. (I previously wrote a personal essay about Baba here.)
For three weeks, Baba was in a facility under lockdown.. Though there weren't any cases of COVID-19, the facility was quick to take action against the viral disease from getting in. Staff members in the facility were strict about social distancing, careful in their cleaning practices and wore personal protective equipment.

"They wore masks, which is confusing for [some] older people," said Baba.

Baba described her daily routine at her facility as monotonous. For most people living there, eating daily meals at the dining room and socializing with other residents was the highlight of their day. After the lockdown was enforced, all meals were brought directly to the residents as they were not allowed to leave their rooms. The daily rhythm for residents revolved around employees bringing them a tray of food three times per day.
Around 6am, a staff member would come into each room and check the vital signs of the residents. One of the tasks was monitoring temperature to ensure that the residents were not developing fevers, which is one of the symptoms of COVID-19.
After that, they would be transferred to their wheelchairs to get ready to eat the breakfast that was delivered to each room. For the rest of the morning, Baba would sit in her wheelchair and wait until her lunch was delivered. Occasionally she would watch the television in her room or talk on the phone.
In the afternoons, the care facility provided hallway entertainment for the residents. This included hallway bingo where staff members would call out numbers from the hallway and residents would call out "Bingo" from their rooms. The facility also offered entertainment to try to keep the residents' spirits up.
"They had people going up and down the hall playing the guitar asking you to sing along," said Baba.
Extra servings of desserts were brought to residents to keep their spirits up. As were crossword puzzles to keep their minds stimulated in isolation.

"They just tried their best to keep folks happy," she said.
Despite the best efforts from the staff to keep the residents entertained, this new way of living was a difficult adjustment.
Before the lockdown, the residents had plenty of opportunities to socialize with each other. Besides gathering in the dining room for meals, the days inside the facility were broken up by activities like movie nights, craft projects, storytelling groups and visits from friends and family.