Lessons of Adventure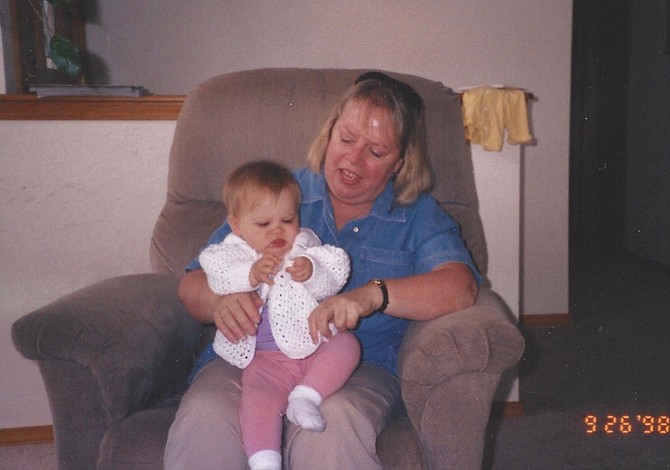 By: Maddie Smith
Growing up, my Baba took on the role of matriarch of the family. She would often babysit my brother and me to give my parents a well deserved break from their two screaming children. My Baba is a lawyer and she talked to me about her career as soon as I was old enough to understand legal battles, probably a little bit before if I'm being honest. Despite her responsibilities as an attorney and grandmotherly duties, I could always tell Baba had an intrepid sparkle in her baby blue eyes.
A sense of adventure is a trait that runs strong on the female side of my family. My parents and aunt instilled a love for travel in me from a young age, taking my brother, cousin and me on trips to places like Arches National Park, New York City, Mount Rushmore and the Dominican Republic, to name a few. My mother shared her tales of adventure around Europe, Alaska and Atlanta, Georgia. Sure enough, the adventure gene was passed down to me as well. At 22-years-old I already have the jungles of Ecuador, the high Andes of Peru and what remains of the ice-capped glaciers of Alaska under my belt. Baba had her fair share of adventures in her youth and, despite the decades in between, there are some similarities between her stories and my own experiences.
When Baba was 30-years-old, she made the decision to move from Rochester, New York to Pawnee, Oklahoma. She left everything, aside from her three young children, behind in New York to work as a nurse on the Pawnee Reservation. On July 5, 1971, a bus dropped Baba and her brother Jack off on the reservation. The land was covered in debris from the powwow that took place the night before. A two-year nursing contract was ahead of her in Pawnee. She recalls Uncle Jack recoiling from culture shock after stepping foot on the reservation. He left the next day to go back home to Toronto.

"I stood on the sidewalk crying after his bus pulled away," she said.
Her first few months on the Pawnee Reservation were troublesome. She was lonely without her friends from back home, and the Native Americans were reluctant to trust her. Despite a rocky start, she decided to stay and fulfill her contract.
Eventually, Baba met her best friend Nancy Mooney, a fellow nurse. The two women kept each other company for the remainder of their contract, inside the health clinic and out.

As nurses, they dealt with a staggering amount of diabetes cases at the health clinic. Baba recalls a three-year-old patient she encountered who was diagnosed with pre-diabetes. The food available for the Pawnees was not healthy, they subsisted off of beef lard provided by the U.S. government and junk food.
The lard that gave so many people diabetes sizzled in the skillets of countless Pawnees, seeping into the pores of golden frybread. The aroma of the sweet, sweet bread is an unmistakable sign of a powwow. Baba looks back on powwows in Pawnee fondly. She enjoyed watching the dancers and drummers perform their art and, of course, the food. Baba still goes to potlucks from time to time with the Native American Coalition of Boise, where she now lives. She rejoices as she is asked to serve herself food before anyone else. Elders are highly respected in indigenous communities and, at age 80, Baba usually holds seniority, granting her the first pick of delicious, warm frybread.

"I always thought we could use a little more of that in our culture," she said.

Decades separate Baba's experience in Pawnee and my own travels, but there are similarities in our stories and lessons learned. Here are some tips from our adventures:
1.Going to an unfamiliar place is difficult, especially when you're on your own. Sometimes, loneliness will make you want to give up, but your adventure has just begun. Go into each new place with an open mind, open heart and a closed mouth. Listen to what locals tell you, open your mind to new experiences and open your heart to new friends, despite missing old ones.
2.Unlike Uncle Jack, don't let culture shock scare you away from traveling. Sometimes the best experiences in life are ones that make you uncomfortable. Instead of packing up and going home, stay awhile and see what you can learn from people who do things a little different than you.

3.Good friends bring a feeling of home to your adventure. Once you finally settle in a bit and make some friends, you won't want to leave. For Baba it was Nancy Mooney from the health clinic, for me it was my co-workers on the train in Alaska. Connections between people from different parts of the world are great opportunities to learn something new. Good friends give a sense of security in a place that seems foreign at first.
4.Finally, try all the food you can. Food ceremonies bring people together and they are tasty ways to learn about the culture of your new neighbors.

At age 80, Baba's adventures lay behind her, but the memories remain. As I continue traveling, I hold these stories close because lessons of adventure are among the few things unaltered by time.