One island, many adventures
Travels with Deb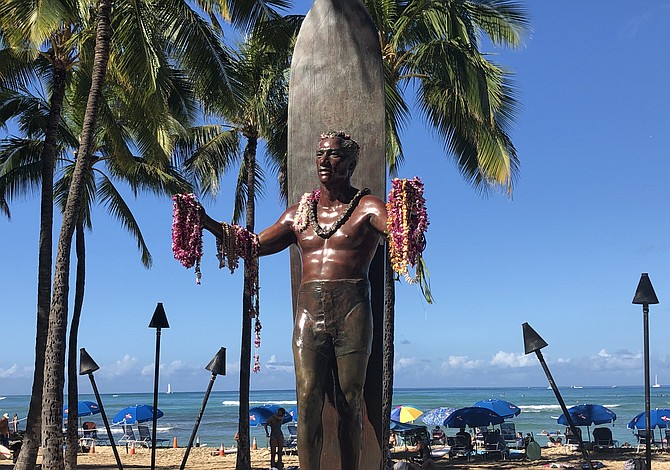 Soaring high above Oʻahu, from my comfy perch in a Blue Hawaiian helicopter, I marveled at the diversity of the island. From craggy cliffs and mountains to dramatic coastlines, verdant valleys and lush rainforests, this special slice of paradise has it all. And a helicopter ride is one of the best ways to appreciate such vast natural beauty.
On a Blue Hawaiian Helicopters O'ahu Complete Island tour, you'll experience the full range of landscape, from the turquoise reefs of Waikiki and iconic Diamond Head to pristine Hanauma Bay and white sand Waimanalo Beach. You'll get to see Mokoli'i Island, otherwise known as "Chinaman's Hat," Sacred Falls and the coral formations in Kaneohe Bay, as well as fly above the Nuuanu Valley rainforest and the panorama of the Dole Pineapple Plantation. The ride concludes with sweeping views of Pearl Harbor, the Arizona Memorial and the Battleship Missouri.

Waterfalls drop hundreds of feet right outside your window and there are times when you'll find yourself flying low over deep and impossibly tangled canyons. As you take in this jaw-dropping scenery, the pilot identifies the various sights and provides interesting details about the island. Crescent-shaped Hanauma Bay, for example, is a nature preserve and the first Marine Life Conservation District in the state. Famed Sacred Falls is a hallowed place for the Hawaiian people and home to many ancient legends, myths and superstitions. Diamond Head was so named by British sailors in the 19th century, who mistook calcite crystals embedded in the rock for diamonds. And Chinaman's Hat, a cone-shaped outcropping of lava off Kualoa Point, is one of the most photographed landmarks in all Hawaii.
Areas such as the breathtaking Ka'a'awa Valley might look familiar to many, as it has been the filming location for numerous movies and T.V. series, including "Jurassic Park," "Godzilla," "Pearl Harbor," "50 First Dates," "Hawaii Five-O" and "Magnum P.I." The valley is part of Kualoa Ranch, a 4,000-acre working cattle ranch that dates back to 1850. You can visit the ranch and discover the valley via jeep, mountain bike, ATV and horseback riding tours.
It's hard to know where to look first during your helicopter experience, as you'll be presented with a nonstop hit parade of stunning vistas. The ride offers plenty of glorious eye candy, but it also gives first-time visitors a useful perspective of the island, which is helpful in creating a plan to explore it once on terra firma.
Beaches figure prominently on O'ahu – more than 130 grace the island. Possibly the most famous in all of Hawaii is Waikiki Beach, an epicenter for tourists, who camp out on the busy two-mile strand. The place teems with sunbathers and watersport aficionados, who want to see and be seen. Umbrellas and chairs stretch as far as the eye can see. And if you think the beach is crowded, try strolling the walkway alongside it, which is home to restaurants, entertainment and a gazillion shops.
When you're ready to do some beach-hopping, head to Waimanalo Bay State Recreational Area and Beach Park. This four-mile stretch of white-sand bliss is perfect for sunbathers and boogie boarders, though less suitable for inexperienced swimmers due to its rougher waters. Further north is Kailua Beach Park, a mecca for those who like to bodysurf, windsurf or sail. Swimmers will enjoy nearby Lanikai Beach (my personal favorite), with its clear turquoise water and powdery sand beach.