Canton exceeds expectations
Travels with Deb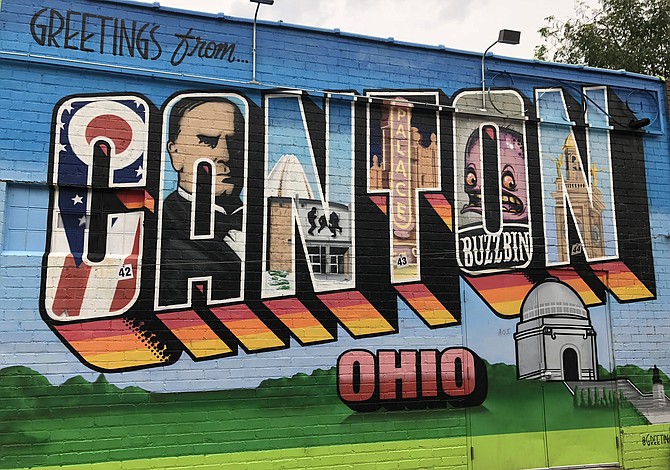 Canton boasts an assortment of eclectic eateries, cafes, coffeehouses and food trucks. At Bender's Tavern, the oldest restaurant in town, turtle soup is the house specialty, along with a variety of fresh seafood and prime steaks. Over at newly-opened Street Side, it's all about Mexican street food, with an assortment of tasty tacos, burritos and bowls, while at George's Lounge (once a crooner's bar where Dean Martin sang), gourmet burgers and handcut fries with "dipster" sauces are local favorites. The sauces aren't your run-of-the-mill flavors, but rather interesting concoctions like Spicy Thai Peanut, Ohio Maple Syrup, Blue Ribbon Beer Cheese and Ben's Peanut Butter. Wash it all down with a Grannie's Dutch Apple Pie shake or a local craft beer. Basil Asian Bistro is the place to go if you're looking for a meld of exotic flavors from the Orient, with dishes such as Vietnamese Phó, Green Mango Grouper and Coconut Spaghetti.
For a truly memorable food and wine experience, make sure you visit Gervasi Vineyard, just ten minutes from downtown Canton. As soon as you enter through the arches of this exquisite estate, you'll be transported to Old World Tuscany. The 55-acre property has a state-of-the-art winemaking facility, producing over twenty varietals, five plus acres of vineyards, lush landscapes, a spring-fed lake and charming brick walking paths. There are three dining facilities available: The Crush House & Winery, a delightful café by day and lounge by night, with a Napa-Valley-style tasting room experience; The Bistro, an upscale restaurant serving authentic Italian dishes; and The Piazza, where casual fare is served lakeside. A fourth option, The Still House, is in the works. It will be a coffeehouse during the day, and a distillery in the evening.
For those who wish to spend the night, Gervasi offers twenty-four, luxury suite accommodations in The Villas, or you can choose to stay in The Farmhouse, a completely restored, original, 1830s home. More rooms will soon be added when The Casa, a new boutique hotel, opens on site. And for corporate events, weddings and private celebrations, there's The Villa Grande, an elegant venue that projects the feel of a grand Tuscan home. But, wait, there's more! You can take cooking classes from top-notch chefs and instructors at The Cucina, and shop 'til you drop at The Marketplace, a rustic, cozy store with a unique array of items and wines.
If you go: www.visitcanton.com
Debbie Stone is a travel writer and columnist, who explores the globe in search of unique destinations and experiences to share with her readers. She's an avid adventurer who welcomes new opportunities to increase awareness and enthusiasm for travel and cross-cultural connections. Her stories appear in a number of print publications as well as on various travel-oriented websites, and she can also be heard on the radio dishing about travel with the hosts of Big Blend Radio. Debbie is a longtime Seattle area resident, who currently resides in Santa Fe, New Mexico.