A walk on the wild side in Wales
Travels with Deb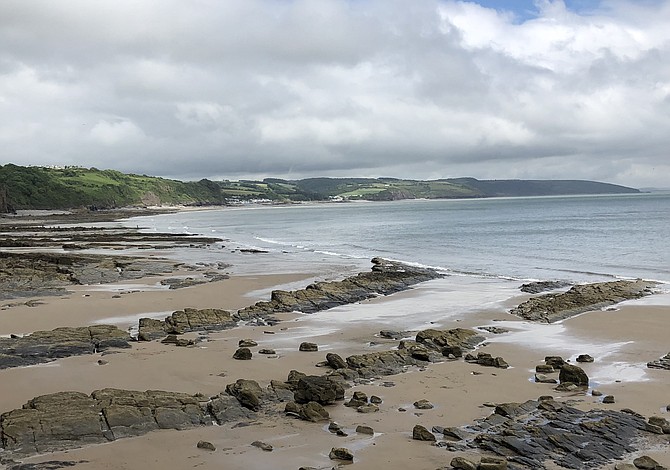 In the heart of town is Cardiff Castle, a combination Roman fort, impressive citadel and Victorian Gothic palace, created for one of the world's richest men – John Stuart, the 3rd Marquess of Bute. Make sure to climb to the top of the medieval Keep, explore the Wartime Shelters and tour the Castle Apartments with their opulent interiors of gilding, wood carvings and stained glass.
Stroll through picturesque Bute Park, then hop on the Princess Katharine, a narrated water taxi that will take you to Cardiff Bay. This waterfront area is a hive of eclectic shops, bars and restaurants. At the National Museum Cardiff, you'll find exhibits on the country's natural history, archaeology and geology, along with the country's notable art collection. And if you want to experience the Welsh obsession, head to Millennium Stadium and join all the rabid fans cheering for their teams at a rugby match.
From Cardiff, we went by train to Tenby, where our walk officially began. Tenby is a lovely seaside resort with cotton candy-colored houses and streets that form a maze of narrow lanes and alleyways inside the old town wall. Picturesque views of golden beaches and nearby islands pop up around every corner. Walk the lovely promenade, stop in at a "chippie" for some fish and chips, or perhaps try a traditional Welsh pie or pasty.
For a special meal, dine at The Stables. Nestled between the medieval town walls, in what was historically an old coaching inn, the restaurant is popular with both visitors and locals alike. The place serves beautifully prepared food with a cosmopolitan flair and is known for its daily fresh fish features that might include bass, skate, cod, hake, salmon and tuna. And when the boat comes in, there's locally caught Pembrokeshire lobster on the menu.
Tenby offers many choices when it comes to accommodations, from inns and lodges, to hotels and spa resorts. We stayed at the Broadmead Boutique B&B, a handsome 18th century country house with lush lawn gardens. Each of the bedrooms is individually designed and tastefully furnished. As with the majority of accommodations in Wales, breakfast is included in your stay. Typically, there's a buffet with continental-style items, as well as a menu of hot dishes. The traditional English breakfast consists of eggs, bacon, fried or grilled tomatoes, fried mushrooms, toast and "bangers," or sausages. It's a hearty way to start the day!
During our walk, we encountered all types of weather. Some days it was wet and damp (good raingear is essential!), with an eerie mist reminiscent of a scene from a Brontë novel; other times, the sun appeared and made everything sparkle in vivid Technicolor. The trail is well-marked overall and distinguished by blue and yellow colored "waymarkers," with a white shell logo. My husband and I only got confused in a few places when the path or markers were difficult to see due to heavy vegetation overgrowth. You'll walk on a variety of surfaces, from dirt and grass to sand, rocks, wood, gravel and asphalt, and if you're not careful, you might step in a few cow pies as well! And you'll climb up and down hills and dunes, go through old railway tunnels, countless stiles and kissing gates, and meander along peaceful country backroads. Flora and fauna abound with seabirds and orchids, butterflies and Atlantic grey seals.