A walk on the wild side in Wales
Travels with Deb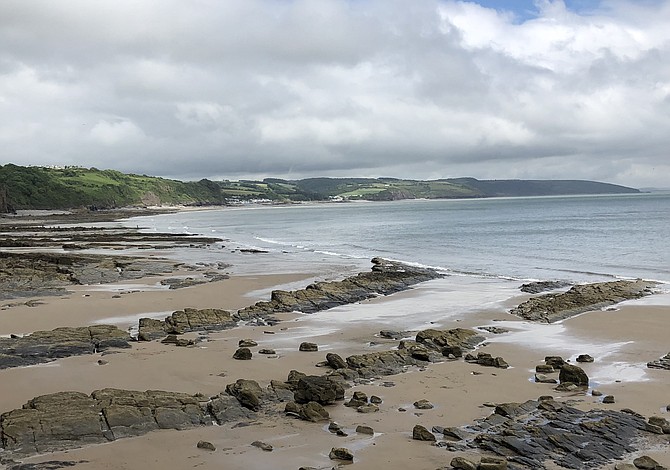 For many trekkers, hiking the entire Appalachian Trail from Georgia to Maine is a bucket list accomplishment. It's one of three long distance walks in the famed Triple Crown; the other two being the Pacific Crest and the Continental Divide Trails. Outside of the U.S., there's a number of walks with similar bragging rights. Among them is the Wales Coast Path, an 870-mile route, spanning eight geographical areas, from Chepsstow, Monmouthshire in the south to Queensferry, Flintshire in the north. Wales has the distinction of being the largest country in the world with a continuous trail around its entire coast.
The path is visually stunning, with backdrops that could be straight out of a fairytale. It's also rich in history and teeming with wildlife. The route runs through National Nature Reserves, World Heritage Sites, Special Areas of Conservation, National Parks, Heritage Coasts, Areas of Outstanding Natural Beauty, and areas managed and protected by Wildlife Trusts and the National Trust. This is a trail that's recognized for its diversity of scenery, from soaring cliffs and windswept beaches to densely wooded forests, bucolic fields and rolling hills of green. And amid all this splendor are medieval castles and ancient churches, along with Neolithic burial chambers and mysterious rock formations that are believed to have prehistoric roots. You'll travel through quaint villages and storybook hamlets, where there's a pub on every corner offering the opportunity to meet a host of colorful, local characters. It's a truly special landscape with moods that change as often as the weather.
The hardy souls who complete the entire circuit are to be commended. But, not everyone has the time, energy or inclination to walk it all at once. Instead, most people do a section or sections of the path, as my husband and I did in early summer. We chose to explore a region of South Wales between Tenby and Burry Port, putting in a total of nearly sixty miles in six days. To facilitate the trip, we worked with Celtic Trails, a company with twenty plus years' experience in providing tailored, self-guided walking trips in the UK and Europe. As leaders in the industry, Celtic Trails is known for its personal service and impeccable attention to detail, as well as for its depth of knowledge regarding the different terrains. The company works with walkers of every level, from beginners to seasoned trekkers, and handles all of the specifics, including route planning, accommodations and luggage transfers from inn-to-inn. And the information it provides prior to your trip is extensive, with a day-to-day itinerary, route maps, guidebooks, packing list, important contact numbers and more. The staff is dedicated to providing the support you need for a memorable adventure.
Before starting our journey, we spent some time in Cardiff, the capital of Wales. The city was originally built during Britain's 19th century coal boom and for many years, it was primarily an industrial town. Though never regarded as one of the country's most attractive cities, Cardiff has been changing with the times and major regeneration projects have given it a new face.