Stop and smell the tulips when you take a 'slow boat' through Holland
Travels with Deb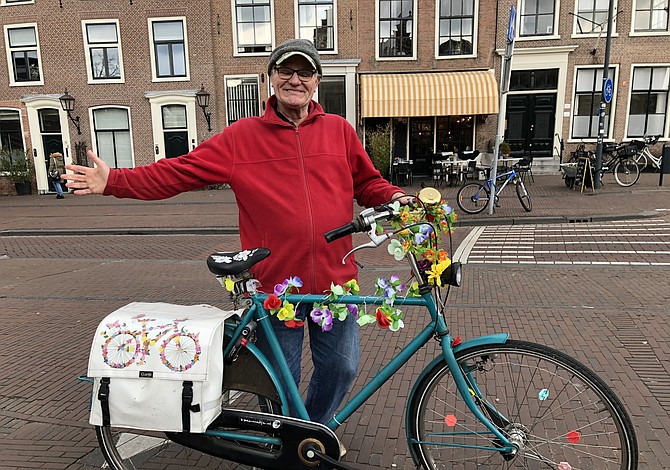 My typical vacation often involves being on the go from morning until night, as I engage in a frenzy of activities aimed at seeing all the notable sights of a particular destination. I feel compelled to do everything since I don't know if I'll have the chance to make a return visit to the place. The pace is tiring and I sometimes find myself needing a vacation from my vacation when I get back home. This time, however, I vowed things to be different. After extensive research, I opted to do a barge cruise in Holland with European Waterways.
The prospect of kicking back and slowing down, while savoring immersive experiences along the way, greatly appealed to me. And the idea of being part of a small group, as opposed to a cast of thousands, was also attractive. But, what sealed the deal for me was the boat itself. Hearing the word, "barge," I initially imagined I'd be roughing it an old, sea worn craft with cramped quarters. Au contraire! Luxury is the name of the game on European Waterways' barges, which boast roomy accommodations and en suite private baths, spacious, public areas both inside and out, and amenities that include an open bar, fresh culinary preparations, wine and artisan cheese tastings, and a highly service-oriented crew dedicated to catering to your every need. There are also special onboard activities such as cooking demonstrations, talks by various crew members and performances by local musicians, as well as daily excursions to fascinating sites, accompanied by a guide who explains the culture and heritage of the region. Most importantly, the vacation is all-inclusive so you won't be nickeled and dimed for the "extras."
Established in 1974, European Waterways is the largest barging company in Europe and has a stellar reputation in the industry. The company operates seventeen upscale barges throughout nine countries across the continent, with vessels available for up to twenty passengers. The boats ply smaller waterways that are inaccessible to the larger river cruise vessels, providing opportunities to explore targeted areas in depth.
In Holland, your barge is the lovely Panache. Constructed in 1959 as a commercial freight vessel, it, was later converted into a hotel barge in 1998. The boat carries a maximum of twelve passengers and has six junior suites. Built in classic Dutch design, Panache is furnished with such traditional ship appointments as brass and mahogany, and features a main salon with comfy sofas, books and music, as well as dining facilities and a corner bar. The sun deck has a heated whirlpool and there's an area to store bicycles that passengers can use when they get off the boat.
Our trip began in Amsterdam, the point of pick-up for transport to the barge. Spending a few days in this cosmopolitan cultural center either before or after your cruise is a must. With its art treasures, stately gabled mansions and picturesque canals spanned by hump-backed bridges, the city is a charming mecca that lures visitors from all over the world. Museums abound, seventy-five in all, from the renowned Rijksmuseum and its repository of Old Masters featuring works by Rembrandt, Vermeer, Steen and others, to the magnificent Van Gogh Museum, which boasts the largest collection of the artist's paintings in the world. Also popular among visitors are the Anne Frank House and its moving displays, the Stedelijk and its array of modern art gems, and the National Maritime Museum with its replica of a Dutch trading ship.