Beads, glorious beads! Mardi Gras in Mobile, the city that was 'born to celebrate'
Travels with Deb
Debbie Stone | Mar 27, 2017, 6 a.m.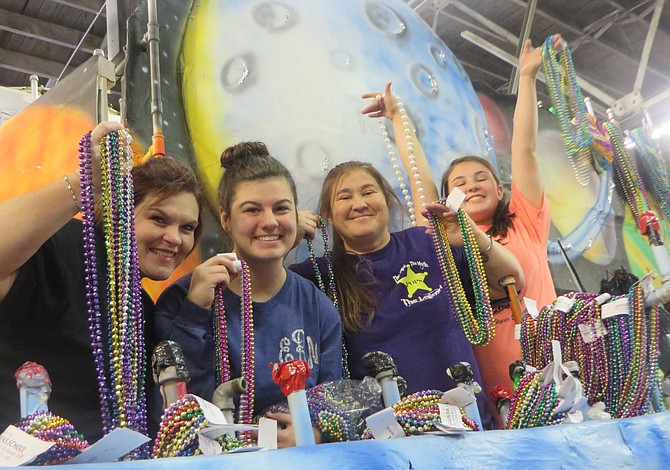 One minute I was a very sane, controlled woman watching a parade. Then, before I knew it, I had joined the masses of men, women and children jumping up and down screaming for beads. Yes, beads! And oh, did I want them. As they were tossed and thrown in spectacular fashion by the revelers on the floats, I eagerly grabbed these colorful strands. And when they dropped to the ground, I scrambled to scoop them up. I confess I became a bit competitive in my desire to acquire as many beads as possible. By the end of the parade, my neck was weighted down with necklaces of all hues and sizes. I wore them like a badge of honor.
I had come to Mobile, Alabama to celebrate Mardi Gras. It may be a surprise for many folks to learn that it's the city of Mobile, not New Orleans that has bragging rights when it comes to being the oldest annual Carnival festival in the U.S. And mind you, Mobilians take ownership of Mardi Gras very seriously. They consider it one of the three major seasons; the other two being football and hurricane.
We have Frenchman Nicholas Langlois to thank for bringing Mardi Gras to our country. The festival began as a French Catholic tradition back in 1703, when Mobile was the first capital of French Louisiana, fifteen years before New Orleans was founded. In Mobile, the holiday has now evolved into a multi-month season of celebrations that start in November and continue through the latter part of February. The final week of Mardi Gras is the biggest with the most elaborate and largest parades taking place the days leading up to the finale on Fat Tuesday. There are a total of thirty-seven parades and seventy-seven balls, one for each krewe or mystic society, that occur during the season.
Krewes are often made up of affiliated groups, and there's a krewe for everyone, whether you're male, female, married, single, black, white, gay, etc. There are also open membership krewes that even welcome visitors. The societies typically operate under a business structure where members pay participation dues. Many of the newer societies actively recruit prospective members; whereas, some of the older orders have restricted membership with waiting lists. The oldest parading society in the city is the Order of Myths, founded in 1867, and known for its emblem consisting of "Folly" chasing "Death" around the broken pillar of life, a famous symbol of Mardi Gras in Mobile. Other notable mystic societies include the Knights of Revelry, Mystics of Time, Crewe of Columbus, Mystic Stripers Society and Infant Mystics. The Order of Polka Dots is the oldest and largest of the Mobile ladies' societies.
If the complex nature of the Carnival scene is a bit befuddling, stop in at the Mobile Carnival Museum for some clarity. You'll be able to immerse yourself in the rich history and traditions of Mardi Gras and see firsthand the intricate designs and artistry of all the majestic crowns, scepters and robes of the royalty over the years. There are also videos of past parades and balls, along with historical photographs dating back to 1886. You can even experience a behind-the-mask view of the street party by climbing aboard a rocking float.