Discover the wonders of the Maine Coast aboard a century old schooner
Travels with Deb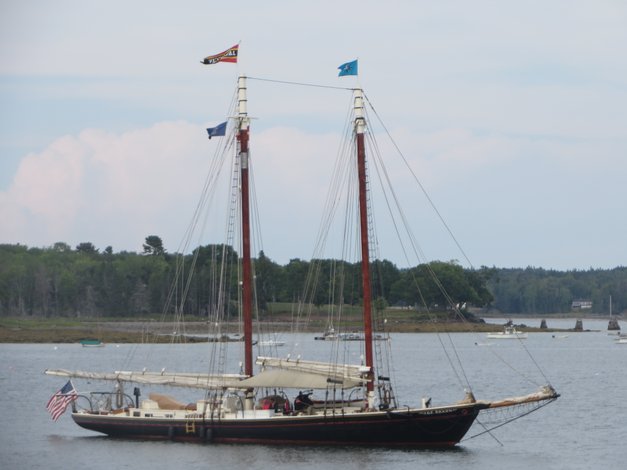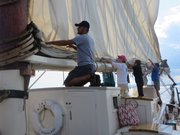 "Ready on the peak? Peak's ready! Ready on the throat? Throat's ready! Heave away!" With those words, I found myself pulling a thick rope in tug of war style as if my life depended on it. My shipmates and I were lined up single file on either side of the boat, each group responsible for helping hoist the massive sails. It took an immense amount of muscle to accomplish this feat and everyone grunted and strained in effort. This was just one of many tasks involved in preparing the schooner J. & E. Riggin as it got ready to sail the seas. The Riggin, a National Historic Landmark, was built in 1927 by Charles Riggin and named after his sons, Jacob and Edward. She is one of a small number of surviving two-masted schooners, once one of the most common sailing ships in North American waters. The Riggin was initially used for oyster-dredging in the Delaware Bay, then later for fishing mackerel and groundfish in Cape Cod and Long Island Sound. Now owned by Jon Finger and Anne Mahle, she is based in Rockland, Maine and serves as a windjammer offering multi-day sailing cruises to tourists in Penobscot Bay.
The Riggin is a beaut, standing tall and proud, with low sides and a spoon bow. She can accommodate 24 passengers and 6 crew members. As Captain Jon points out, she runs on "Norwegian steam" as there's no onboard engine. That's why he encourages willing passengers to aid the crew with the various tasks. "This is not a Yankee hell ship and there are no whips, but we are all about teamwork here," he says, "and we welcome your assistance." Help we did, from raising and lowering the sails to taking up the anchor each morning. It was a lesson in basic sailboat operations, along with the acquisition of new set of vocabulary.
Though there is no engine on the Riggin, she carries a yawl boat for auxiliary power during calm spells and to maneuver the vessel into or out of tight harbors, in the same way a small tug boat works with larger ships. It's amazing to watch this little craft move the massive schooner with an incredible amount of finesse. My fellow passengers and I were in awe of Captain Anne's skills, as she guided the Riggin into a narrow berthing spot at one of our stops.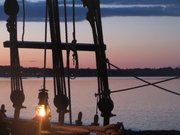 I had never been on a sailing vacation and having heard about these historic windjammers, I thought it would be a unique way to explore the scenic Maine coast. Choosing the Riggin was a no brainer, as the reviews of the experience on this boat are always over the top and the rate of repeat business is high (65% of passengers return with some folks having made twenty sailings or more over the years). People rave about the sights, the Captains and crew, the food and most of all, the ability to escape their hectic routines and enjoy some peace and serenity. They also treasure the opportunity to relive the great days of sailing and do their part in helping to keep this tradition alive.