Loretta Lynn: How the Country Superstar Got Her Start in Washington State
August 29, 2015 at 6:31 p.m. | Updated April 14, 2022 at 9:08 p.m.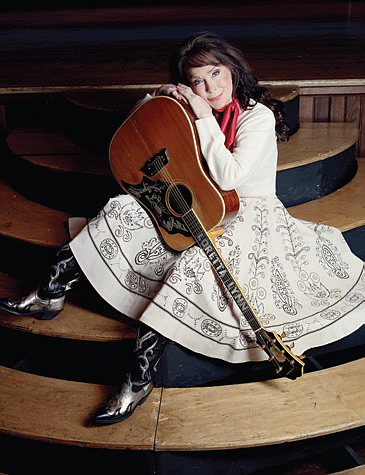 ---
Loretta Lynn turned 90 on April 14. Musicians including Dolly Parton, Carrie Underwood, Faith Hill, Tim McGraw, Garth Brooks and many others recorded a tribute video that was released on her birthday this month. Loretta responded, "My family and I are planning a big dinner and, of course, cake! I love you!"
Loretta Lynn was Northwest Prime Time's cover girl back in 2015. We offer the story to you once again. Enjoy.
---
---
Loretta Lynn's life story is a rags-to-riches tale familiar to fans around the world. She journeyed from the poverty of the Kentucky hills to the backwoods of Washington State and on to Nashville superstardom. To this day, Loretta Lynn maintains her status as an "honest-to-goodness" American icon.
Loretta Lynn charmed her way onstage at the Grand Ole Opry on the tails of her 1960 debut single, I'm a Honky Tonk Girl, but she actually got her start in the taverns and grange halls of Washington State's northwest corner.
As millions who read her 1976 autobiography or saw its Oscar winning 1980 film treatment are aware, Loretta Lynn is a Coal Miner's Daughter who was raised in dire poverty in Butcher Holler, Kentucky. Butcher Holler was so small that there wasn't so much as a dirt road to serve the remote Appalachian hamlet.
Yet despite the poverty, Lynn was surrounded by love and by music as a child.
---
---
She famously married Oliver "Doolittle" Lynn when she was a barely schooled child of 13. "Doo" was a 21-year-old war veteran with a reputation as a hell-raiser. Looking for a future that didn't require him to work the mines, Doo found farm work near Custer, Washington. "Doo heard of work in Washington State, where his dad was panning for gold… he decided to go hell or high water," writes Lynn in her 2002 memoir, Still Woman Enough. "Doo had been to Washington when he was younger, and the way he talked it was God's country…where the air is pure." Loretta joined him in 1951, traveling across the country at age 14, seven months pregnant with her first child.
Poverty didn't leave the couple behind when they left Appalachia. She writes of times when Doo would be gone looking for work, "I remember he'd go off for days at a time after we got to Washington, leaving me and my babies alone. Well, one of those times we got down to where we was eating mostly dandelion greens." But she also remembers the kindness and generosity of her neighbors, who helped her out time and time again.
"Before I was singing, I cleaned house; I took in laundry; I cooked for ranch hands; I picked berries. I worked seven days a week. I was a housewife and mother for 15 years before I was an entertainer. And it wasn't like being a housewife today. It was doing hand laundry on a board and cooking on an old coal stove. I grew a garden and canned what I grew."
By 18, she had four children (two more, twins, came along in 1964). Isolated from her family back home and burdened with domestic work, she turned to music for solace.
Doo heard her singing at her chores and declared that she sounded just as good as anyone he heard on the radio. For her 18th birthday, he bought her a $17 guitar and told her to learn how to play it.
"After he got me the guitar, I went out and bought a Country Song Roundup. I looked at the songs in there and thought, 'Well, this ain't nothing. Anybody can do this.' I just wrote about things that happened. I was having babies and staying at home. I was writing about life," she recalled.
"It seemed like we got worse off as the years went by in Washington. We lived in three different houses there. Who knows, maybe the fact that we seemed to be going downhill is what got Doo thinking about me singing for money. I know this: without Doo and his drive to get a better life, there would have been no Loretta Lynn, country singer."
Doo began pushing her to perform. "Shy isn't the word for what I felt onstage," wrote Loretta. "Terrified is more like it. But Doo came home one day and said he'd got me a job. He'd gone and got me a job singing inside a tavern in Blaine, right on the Canadian border. I'd never been inside a tavern and I'd never sang in public. I was going to be singing with the Penn Brothers and their group The Westerners, with their front man Howard Roedell. I told Doo I didn't want no job singing in front of people. I argued and cried and carried on, but Doo got his way, just like he always did." Those early shows were painful for her. "I sang into the microphone and looked at my feet. After every song, I turned my back to the crowd."
Joyce Olmstead, whose father Howard Roedell was lead singer for The Westerners, recalls those days. "Loretta and the band would practice at my house. They would make tapes and take them to the Bellingham radio stations," says Joyce, who also babysat Loretta's four little kids. "I remember once they had a live broadcast. Loretta would be singing and playing her guitar, dressed in a black and white cowgirl shirt and wearing a white hat." Joyce liked Loretta. "She was really nice. She's down-to-earth and plain out nice, with no pretensions, one of those people who would give you the shirt off her back." Loretta kept in touch with Joyce and her parents for years, visiting when she was in town or sending tickets to her shows. After Howard died, Loretta asked for one of his Westerner band shirts for her museum.
---
---
But after a few months with The Westerners, Loretta left the band. "They was tired of paying me my five dollars a show," she reported. "My brother Jack was living in Washington by then, so he played lead guitar while I was on rhythm. Roland Smiley, from The Westerners, came with us on steel guitar. We billed ourselves as Loretta's Trail Blazers and got us a paying job at Bill's Tavern. I had to make some money; after all, me and Doo was paying babysitters. I kept singing in those old dives in Washington because Doo kept making me. I would have been a whole lot happier if he'd got steady work that let me stay home with my kids…but Doo had decided that I was a professional singer."
With Doo's encouragement, she entered a talent contest in Lynden, Washington and after she won that, Doo took her to a televised contest in Tacoma hosted by Buck Owens. Norm Burley, across the border in Canada, saw that television broadcast and was so impressed by Loretta that he started Zero Records just to record her.
The little label soon recorded her debut single, I'm a Honky Tonk Girl. Loretta made herself a fringed cowgirl outfit; she and Doo left the kids with their parents to trek across the country. They lived in Doo's old Mercury sedan, promoting the single at station after station. "Them months we spent driving around this country promoting my record was some of the best times Doo and me ever had together." But they were so broke and hungry on the trip that Loretta was reduced to stealing fruit and vegetables from gardens.
Their goal was to reach the Grand Old Opry. Astonishingly, it worked. The disc hit the popularity charts in the summer of 1960. By the time the couple made Nashville their full-time home in the fall of 1961, Loretta was a regular guest on the Grand Ole Opry. The show's Wilburn Brothers took her under their wings. Teddy Wilburn helped to polish Loretta's startlingly original songwriting style. Brother Doyle Wilburn took her tape to producer Owen Bradley at Decca Records and Loretta got a contract.
Like everyone else who encountered her, Owen Bradley was smitten with Loretta's innocence, individualism, infectious wit, independent spirit, humorous candor, refreshing frankness and immense talent. He came to regard her as "the female Hank Williams."
Loretta's Decca chart debut came with 1962s Success. It became the first of her 51 top-10 hits and led to an invitation to become a regular cast member at the Grand Ole Opry. Her fellow Opry cast member Patsy Cline taught her how to dress, style her hair, and wear make-up. The Wilburns began featuring her on their nationally syndicated TV series. She sang with her childhood hero, Ernest Tubb, and hit her stride with the hits Wine, Women and Song (1964) and Happy Birthday (1965), both feisty, "don't-step-on-me" numbers.
"She's the spokesman for the ladies," observed the late Owen Bradley. "Loretta had a lot of different ideas, and they were very fresh. Women's lib was also coming on at that time. You have to be in the right place at the right time. And I think Loretta was standing right there."
"Most of my songs were from the women's point of view," Loretta wrote in her best-selling autobiography. "Most of my fan club is women, which is how I want it.
"I was a mommy at 14 and a grandma at 29. Having to grow up as fast as I did when I got married took something away from me. But it also gave me something: a hard-won strength."
The hits kept coming. Loretta began to win awards and accolades, including a Grammy Award. In 1972, she became the first woman in history to win the Country Music Association's Entertainer of the Year trophy.
By the mid-1970s, Loretta Lynn was an undeniable superstar. She was featured on the covers of Newsweek (1973), Redbook (1974) and many other publications. With her kooky humor, scrambled grammar and unpretentious manner, she became a TV talk-show favorite.
Loretta continued to dominate the charts through the 70s and into the 80s. She was inducted into the Nashville Songwriters Hall of Fame in 1983, and in 1988 she entered the Country Music Hall of Fame.
---
---
In the midst of her success, in 1980, Loretta's life became the Oscar-winning movie Coal Miner's Daughter, based on her memoir of the same name. And while the movie ended with Loretta going off into the sunset with Doo, the real story was not as sunny—endless nights on the road in her tour bus while her husband stayed home drinking and womanizing. And Loretta missed huge chunks of her children's lives while on the road.
Loretta bought her family a 1400- acre estate outside of Nashville called Hurricane Mills, which is now a popular tourist attraction. "She lived a lonely life," said her daughter Cissie in an interview with CBS news. "She has had this unbelievable success, but that doesn't make up for lonely."
When her husband Doo became ill, Loretta left the spotlight to care for him. "I never left his side." When he died in 1996, she was numb with grief. She admits that she was lost in a fog for more than a year. But she came back again in 2000 with a new CD and she also returned to the concert trail.
"It's a good thing, too," she says. "Because if I hadn't, I would have been nuts by now. I would have been completely nuts."
Today, Loretta Lynn and her children work together, on music and at the ranch, reclaiming a close bond that had been lost in earlier years.
Loretta was inducted into the national Songwriters Hall of Fame in New York in 2008. And, though she won a Grammy Lifetime Achievement Award in 2010, Loretta says her life is a work in progress. She's still writing songs.
For all of her success and fame, Loretta remains true to her humble beginnings. She recalls her years in Washington with a mix of emotions. "We had some terrible hard times," wrote Loretta in her memoir. "I wouldn't have made it through if it hadn't been for two things: I've always been a hard worker, and I believe in God.
"People say to me, 'You're a legend.' I'm not a legend. I'm just a woman."
View and download this publication.
---
Inspire Positive Aging Award Winners!
The recipients of Sound Generations' 2022 Inspire Positive Aging Awards were celebrated at a June 16 luncheon.
---
A Birthday Gift Safety Manuel
I'm sure most men would agree that buying a birthday gift for your wife is fraught with danger
---
Filipino Village and Senior Housing Community Opens
Seattle's Filipino Community Village and affordable senior housing project opened in June
---
Where in Washington?
And the winner is...
---
Mt Si at Midnight
My best friend, Miggs, loved to climb and coaxed me up anything that was a hill if she could catch me in an unguarded moment. I hated a stiff climb, as even in those long-ago days I was plagued by shortness of breath. She could talk me into the effort by reminding me of how wonderful the view would be from the top. I have always been a push-over for a view.
---