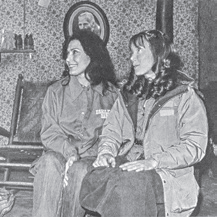 Loretta on set with Sissy Spacek. Sissy portrayed Loretta in "The Coal Miner's Daughter" - courtesy Loretta Lynn collection
Stories this photo appears in:

Loretta Lynn's life story is a rags-to-riches tale familiar to fans around the world. She journeyed from the poverty of the Kentucky hills to the backwoods of Washington State and on to Nashville superstardom.