The arts and crafts heritage is alive and well in the Smokies
Deborah Stone | Dec 22, 2014, 6 a.m.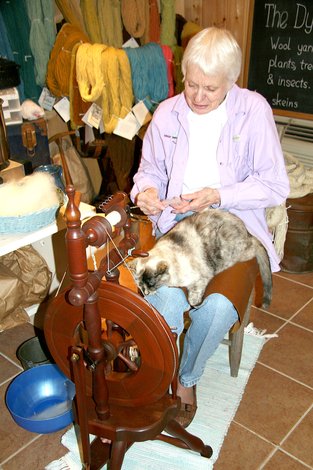 It takes Pastor Jimmy Morrow about three hours to make one of his famous kudzu baskets. Watching him wind this tough and stringy plant's vine over and around countless times is a hypnotic experience. Listening to him tell tales of Appalachia, on the other hand, is an insightful journey into one of the most fascinating regions in our country. Morrow is a multitalented man – an author, historian, artisan and snake-handling pastor – who is a well-known figure in the Smoky Mountains. His family dates back to the Civil War era with roots in Morgan Gap, deep in the heart of East Tennessee. Pastor Morrow's primitive art paintings tell both historical and religious stories, and his folk art dolls of corn husk are portrayed as characters within these accounts. He's one of many residents in the Smokies doing their part to keep the Appalachian arts and crafts heritage alive.
Maria Holloway, of Holloway's Country Home Quilts in Cosby, is another. Though not originally from this area of the country, Holloway has lived in the bucolic backyard of the Smokies for many years. She is committed to perpetuating the art of quilt-making; a traditional craft she claims is slowly dying as the number of custom handmade commercial quilters continues to dwindle. Her store is now the only one of its kind in Cocke County that sells authentic American quilts exemplifying centuries of rural tradition. She also offers classes for those interested in learning or advancing their skills in this art form. Holloway carries a large variety of quilts and has a notable vintage collection. Styles range from Log Cabin and Double Wedding Ring to Postage Stamp, Courthouse Step and Old World Floral Hand Applique, among others. Visitors interested in viewing the quilts are treated to an amazing showcase as Holloway and her staff lift up spread after spread from atop a bed piled high with sumptuous quilts. Each one is more colorful and intricate than the other, providing a sumptuous visual array.
Nearby at Five Arts Studio, Marianna Arensbak Shaffer and her husband Ted Shaffer are busy at work in their expansive quarters making trolls of all shapes, sizes and characteristics. The trolls are created from natural materials such as acorn caps, pine cones, seeds, nuts, berries, gourds, jute and sisal. Hundreds of these whimsical pieces line the shelves, displaying their various traits, from the bookworm and computer whiz to the hippie, biker and trail guide. There are teacher and police trolls, along with troll nurses and doctors, firefighters and even grape stompers. The selection is extensive with a troll for every person or personality. It all began with Arensbak Shaffer's parents, Ken and Neta Arensbak, who came to the U.S. from war torn Denmark in 1949. They brought with them scores of adventurous stories involving Scandinavian trolls. The couple wanted their children to grow up with these legends, but the telling of these tales raised the question as to a troll's appearance. To bring his stories to life, Ken made a troll out of found objects. Neta and her children decided to make more trolls using Ken's design to give as presents to friends and neighbors who enjoyed the stories. Forty years later, the tradition continues with Marianna and Ted.