Make pizza at home
Low-Salt Pizza from the Pantry
May 26, 2022 at 8:20 a.m. | Updated May 26, 2022 at 8:20 a.m.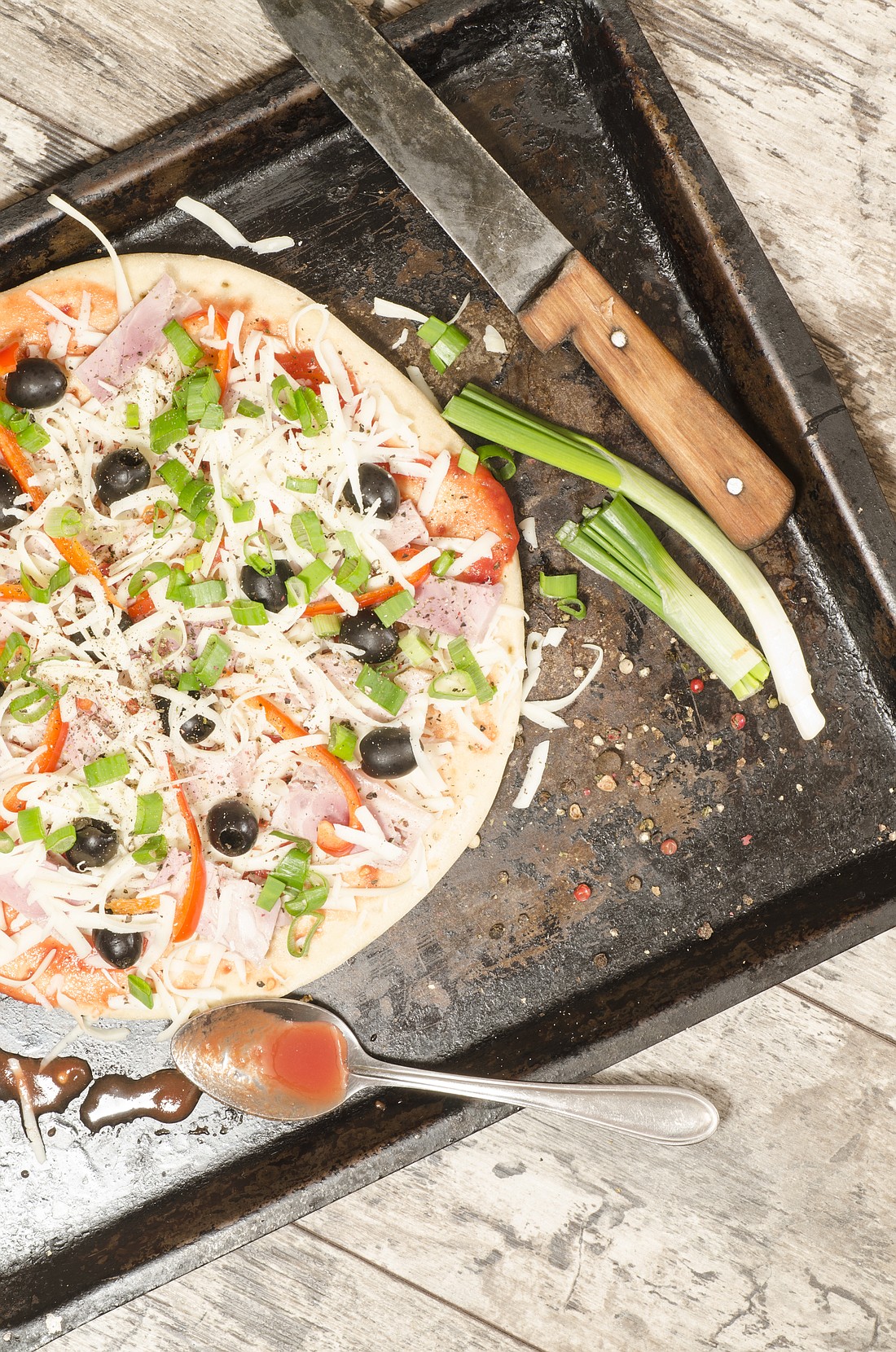 ---
---
Pizza is high on the list of the top 10 saltiest foods Americans eat. As with all things salty, the best approach is to make your own.
You may be thinking that the big reason you order pizza is because you are short on time to cook. But homemade doesn't have to mean slow.
You can make this recipe in less than 30 minutes and have it on the table before a pizza delivery could get to your door. Your local pizza parlor isn't doing anything you wouldn't. Pizza takes the same amount of time whether someone else makes it or you do.
Homemade pizza could become a family favorite, so be sure you're stocked up with low-salt toppings. You'll save money and know that you're being kind to your heart and kidneys by maximizing flavor and minimizing salt.
Low-salt Pizza Ingredients 
Packaged rapid rise yeast (keeps in refrigerator for a year)
Olive oil
Flour, white or whole-wheat
Canned pineapple (buy small cans, one per recipe)
Pesto (choose lowest salt option; buy small jars, one per recipe, or make your own ahead and freeze)
Canned tomato paste
Sun-dried tomatoes
Fresh green or red peppers
Canned roasted red peppers (choose lowest salt option)
Ricotta cheese
Mozzarella cheese (keep frozen)
Goat cheese
Garlic
Onions
Mushrooms
Any fresh vegetables or herbs
Dried oregano and parsley
Quick Homemade Pizza Dough:
This is a foolproof recipe even if you have never made crust before!
2 envelopes fast-acting yeast
Pinch of sugar
¼ cup lukewarm water (for yeast)
1 cup lukewarm water (for flour)
3 ½ cups all-purpose flour
¼ cup olive oil
Sauce:
¼ cup tomato paste
¼ teaspoon garlic powder
2 tablespoons olive oil
1 teaspoon dried oregano
1 teaspoon dried basil or 2 tablespoons fresh
1 teaspoon dried parsley
Sprinkle yeast and sugar into ¼ cup of lukewarm water. Let stand 2 to 3 minutes and then stir until dissolved. Cover with towel 3 to5 minutes or until yeast bubbles up and doubles in volume.
Preheat oven to 500 degrees. Measure flour and make a well in center. Add yeast mixture, 1 cup lukewarm water and oil. Mix dough with fork until a rough ball forms. Knead on floured board for about 5 minutes, adding more flour if dough remains sticky. Dust lightly with flour, place in large clean bowl and cover. Set in a warm spot for 10 minutes.
Prepare toppings. Fold dough over and divide into 3 balls. Use a rolling pin to roll balls to ¼ inch thick. Spread with sauce and add your choice of toppings from above list. Bake for 8 to 12 minutes. Remove and serve. You also can make about 8 to 10 mini pizzas and let everyone top their own!
Nutritional Information (serving size: 2 large pieces): 
Calories: 176, Carbohydrates: 18 grams, Protein: 7 grams, Fat: 8 grams, Sodium: 70 milligrams
[Contributor Katy G. Wilkens recently retired as registered dietitian and department head at Northwest Kidney Centers. The National Kidney Foundation Council on Renal Nutrition has honored her with its highest awards for excellence in education and for significant contributions in renal nutrition. She has also been awarded the Medal of Excellence in kidney nutrition from the American Association of Kidney Patients.]
Eating Well, Living Well classes
Studies show that working with a registered dietitian can delay kidney failure and postpone dialysis for longer than two years. FREE nutrition classes taught by Katy's former team of registered dietitians are available at convenient times and locations around Puget Sound.
Eating Well, Living Well classes teach people how to eat healthier to slow the progress of kidney disease and postpone dialysis. Learn more at www.nwkidney.org/classes.
View and download this publication.
---
Inspire Positive Aging Award Winners!
The recipients of Sound Generations' 2022 Inspire Positive Aging Awards were celebrated at a June 16 luncheon.
---
A Birthday Gift Safety Manuel
I'm sure most men would agree that buying a birthday gift for your wife is fraught with danger
---
Filipino Village and Senior Housing Community Opens
Seattle's Filipino Community Village and affordable senior housing project opened in June
---
Where in Washington?
And the winner is...
---
Mt Si at Midnight
My best friend, Miggs, loved to climb and coaxed me up anything that was a hill if she could catch me in an unguarded moment. I hated a stiff climb, as even in those long-ago days I was plagued by shortness of breath. She could talk me into the effort by reminding me of how wonderful the view would be from the top. I have always been a push-over for a view.
---