Inspire Positive Aging Award Winners!
June 29, 2022 at 11:20 a.m.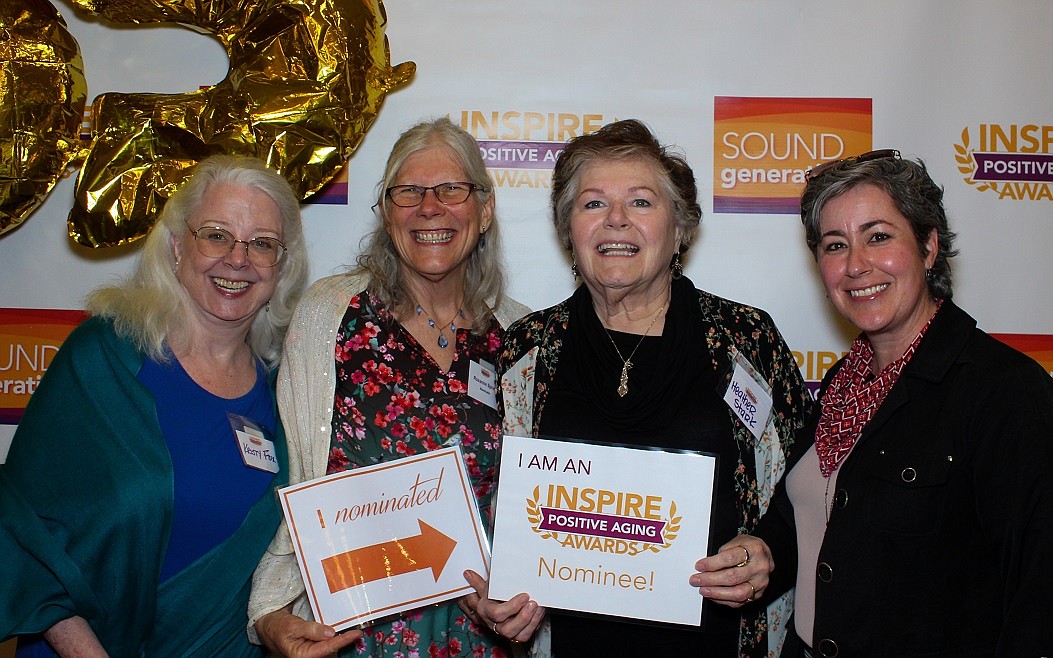 ---
The recipients of Sound Generations' 2022 Inspire Positive Aging Awards were celebrated at a June 16 luncheon.

These amazing seniors were recognized for their ability to inspire those around them to age well, and to model how to lead one's best life in a society that often overlooks and minimizes the contributions of aging adults. They represent the resilient energy, creativity and drive that exists when people choose to define how they will live instead of letting their age define them.

These seven individuals were honored through the following award categories: Advocacy and Activism, Community Service, Defining Inspiration, Health and Wellness, Intergenerational Impact, and Lifelong Learning.

 
Celia Austria, 82 | Advocacy & Activism 
Celia Austria has worked all her life to inspire others by bringing equality to her Filipino community. Celia's hard-working and kindhearted nature allows for her to touch the lives of so many within her assisted living community, Park Place. One of her major philosophies is to keep family and service toward others at the forefront of all you do, and to remain understanding towards all who may disagree with you. As the president of the Park Place Resident Resource Group, Celia hosts monthly Resident Resource Group meetings to advocate for the need for increased mental health services and offers free counseling sessions to her peers. As a passionate advocate, Celia also lobbies to the state government to garner more funding for assisted living communities. She seeks to gain insight and opinions from those within her community, taking these concerns to executive management to inspire change.

 
Glenda West, 61 | Community Service (co-recipient)
Glenda West is an inspiration to all, pursuing many creative talents and doing them all successfully with heart and passion. Glenda is a person who demonstrates by the way she lives her life what is possible for everyone to achieve as they walk the aging path. Many are proud to call her friend and supporter. Glenda sends an important message that living a fulfilling life through family, the arts, volunteering, supporting causes you believe in, and being who you are leads to a life that is successful and fulfilling. As an active community member, Glenda is involved in many groups including Ballard NW Senior Center, Cancer Lifeline, GenPride, Seattle Reparatory Theatre Public works project, and Aging Ballard Life Exchange. At Ballard NW Senior Center, she leads monthly conversation groups and volunteers to drive the center van on fun member outings. The positive way she lives, even during difficult times like a pandemic, is inspiring for all who have the privilege to know her.

 
Turnesh Gura, 82 | Community Service co-recipient 
 Ms. Turnesh Gura has dedicated herself to ongoing volunteer service at the age of 82 years old. She has made a measurable impact volunteering as a chef for the East African Senior Center program for 10 years. Her dedication stretches so far, she travels on 2 buses just to get to the center. Ms. Turnesh generously gives her time and talents to ensure that other East African adults receive culturally appropriate meals. She engages with others by inviting her peers to volunteer at the kitchen, exercise, and socialize. This has allowed Ms. Turnesh to maintain close personal relationships with family, friends, and her community members. In a recent interview, Ms. Turnesh shared the following words: "Volunteering is a rewarding way to give back to my community. It is also an opportunity for me to get up in the morning and be physically active." Her continuous contribution has taught those she encounters to think differently about aging, and that it is possible to be active, strong, and serve your community at any age.

 
Jerald Forster, 86 | Defining Inspiration
Jerald Forster is passionate about helping others articulate their strengths and view themselves in a positive light, helping build confidence and a feeling of well-being in the community. Despite weathering several bouts of cancer, he manages to keep positive and focus on the future. At Shoreline UU Church, he helped develop and facilitate a group called Appreciating Elderhood, hosting 8-20 regular attendees ranging from ages 60-98. Facilitating for over twenty years, Jerald creates a welcoming space to encourage each participant to share difficult thoughts as well as feelings of what is appreciated in their daily lives. Jerald embodies his positive philosophy and his exuberant enthusiasm for making a positive difference in others' lives is truly inspiring. Keeping busy after retiring from teaching at UW in 2000, Jerald recently co-authored a book with his stepdaughter titled Articulating Your Strengths: A Mindful Practice for Developing Your Positive Identity. To complete a project like this at his age is truly remarkable!

 
Dr. Margaret Boddie, 80 | Health & Wellness
Dr. Margaret Boddie's commitment to healthy aging and to supporting older adults, especially African American older adults, is inspiring. She brings endless empathy to those she serves and works hard to help others understand the barriers they face and the ways the COVID-19 pandemic has exacerbated those barriers. When the pandemic hit, she worked tirelessly to engage both older adults and staff, not willing to put people on hold. In longstanding partnership with UW Health Promotion Research Center, Dr. Boddie helped to develop and spread the Program to Encourage Activate, Rewarding Lives (PEARLS). PEARLS was developed in partnership with community-based organizations like Seattle King County Aging and Disability Services that work to support older adults' aging in place in their homes and communities. Despite initial skepticism due to ongoing issues of racism, historical trauma, and mental health stigma, she brought compassion and grit to the program, allowing PEARLS to be accessible to older Black adults living with complex health issues and poor access to care. This work includes hiring Black professionals as PEARLS care managers to build trust and rapport, and training staff to talk about depression in ways that are both culturally fitting and age appropriate.

 
Harry Williams, 87 | Intergenerational Impact
Harry Williams is a true example of selfless service and a great leader in his community of Kent. Those that Harry encounters are inspired by seeing him out and about, actively volunteering and making a difference in the lives of others. Every Monday, Harry volunteers at the Kent Food Bank to help pack food. Additionally, Harry is a member of the Rotary Club of Kent, supporting the community through the pandemic. Harry is involved in the local Kent School District's Music4Life program, a program invested in supporting students' musical success through the donation of musical instruments. "He has truly been inspirational. I see him volunteer weekly and it makes me think about what I can do. He makes a difference in many lives, and I hope to age like him", says Satwinder Kaur, fellow Rotary Club of Kent member.

 
Heather Stark, 72 | Lifelong Learning
Heather Stark demonstrates the epitome of lifelong learning, embracing education for the purpose of making significant contributions to society. Despite facing significant health concerns and surviving cancer, Heather continues on at full speed. In her seventh decade of life, she just recently completed her Ph.D. in Psychology, a pursuit that spanned an entire decade. In addition, Heather has plans to work on two additional Master's degrees.  She is an advocate for social justice, raising awareness around domestic violence and women's rights. Heather's constant professionalism and ability to treat all she encounters with kindness and respect has provided a stunning example of her wisdom and grace.
 
 
Congratulations to all of this year's winners!

Sound Generations is the most comprehensive non-profit organization serving older adults and their loved ones in King County. The organization's ten core programs and six senior centers provide food security, transportation, health & wellness, and assistance services to underserved and marginalized populations. Sound Generations is committed to helping all people, especially those in low-income communities and communities of color, obtain the services they need while feeling included and respected. For more information, visit soundgenerations.org.