Sun worship: summer picnics
July 20, 2022 at 9:50 a.m. | Updated July 20, 2022 at 9:50 a.m.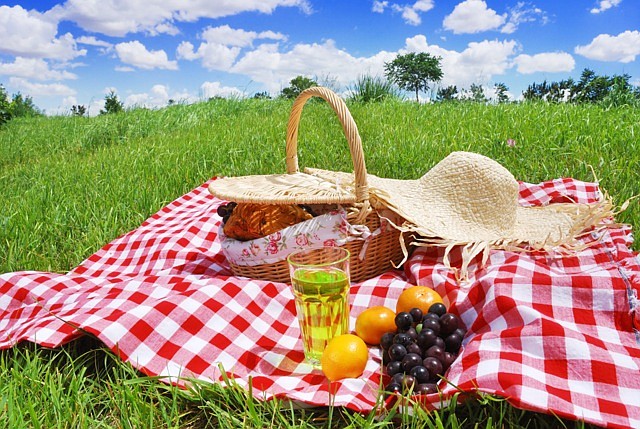 ---
---
Summer days in the Northwest are the best. The sun is out and the evenings are long – it's the perfect time to pack a picnic and enjoy your meals outside!
You don't need a fancy picnic basket with matching silverware to take your meals for a spin. Just pack a paper bag with plastic forks, napkins, paper plates and a water bottle, along with a few treats. If your picnics are low in sodium, they will give you and the people you care about many more years of health to enjoy all those sunsets together. 
Picnics can be simple: a loaf of bread, a wedge of cheese and fresh peaches or plums. Somehow real food tastes better sitting in the warm grass by a lake or on a driftwood log. To make picnics even more fun, try adding just one or two dishes you fix ahead. Make one of the tasty low-sodium treats below and have a friend bring another one, so no one is stuck doing all the cooking ahead. Buy some fresh peaches, berries, apricots or plums on the way, and serve them sliced with a sprinkling of brown sugar and a dollop of sour cream for a perfect end to a perfect day.
Deviled eggs
12 large eggs
¼ cup mayonnaise
1 teaspoon yellow mustard
Paprika
Boil eggs in a pot of water until hard-boiled, about 15 minutes. Drain eggs, let cool.
Peel off the shells and cut eggs in half, lengthwise. Remove yolks and mash in a mixing bowl until crumbly. Mix in the mayonnaise and mustard.
Spoon the mixture into each egg and sprinkle with paprika for added color. Place in the refrigerator to cool before serving.
Nutritional information (per serving, two deviled egg halves):
Calories: 110, Carbohydrates: 1 gram, Protein: 6 grams, Sodium: 92 milligrams                                 
Broccoli brown rice salad
To make this a main course salad, add chilled protein, such as sauteed tofu, paneer cheese, and/or hard-boiled eggs.
2/3 cup raw brown rice
2 cups broccoli florets
¼ cup chopped onion
1 cup shredded carrots
1 cup diced celery
1 tablespoon lemon juice
½ cup mayonnaise or yogurt, or ¼ cup each
¼ teaspoon Worcestershire sauce
¼ cup chopped fresh parsley
2 tablespoons fresh tarragon
Tofu, paneer, hard-boiled egg (optional)
Cook rice, rinse with cold water and drain. Meanwhile, boil about 4 cups of water. Cut broccoli into bite-size pieces. When water is boiling, add broccoli and cook about 2-3 minutes, until broccoli turns bright green. Remove and plunge into ice water. Drain and chill. Add onion raw or sauté onion in a small amount of oil for a milder flavor. Add all ingredients to rice. Toss lightly. Refrigerate until serving.
Nutritional information (per ½-cup serving):
Calories: 83, Carbohydrates: 9 grams, Protein: 3 grams, Sodium: 99 milligrams                                 
Fruit and cream
Fresh raspberries, strawberries, peaches, apricots or plums
1-2 tablespoons brown sugar per person
¼ cup sour cream per person
Slice the fruit at the picnic site. Put in individual paper cups. Dollop with sour cream and sprinkle with brown sugar. Watch the sun set. 
[Contributor Katy G. Wilkens recently retired as registered dietitian and department head at Northwest Kidney Centers. The National Kidney Foundation Council on Renal Nutrition has honored her with its highest awards for excellence in education and for significant contributions in renal nutrition. She has also been awarded the Medal of Excellence in kidney nutrition from the American Association of Kidney Patients.]
Eating Well, Living Well classes
Studies show that working with a registered dietitian can delay kidney failure and postpone dialysis for longer than two years. FREE nutrition classes taught by Katy's former team of registered dietitians are available at convenient times and locations around Puget Sound.
Eating Well, Living Well classes teach people how to eat healthier to slow the progress of kidney disease and postpone dialysis. Learn more at www.nwkidney.org/classes.