Quick Asian stir-fry meals
February 23, 2022 at 8:30 a.m. | Updated February 23, 2022 at 8:30 a.m.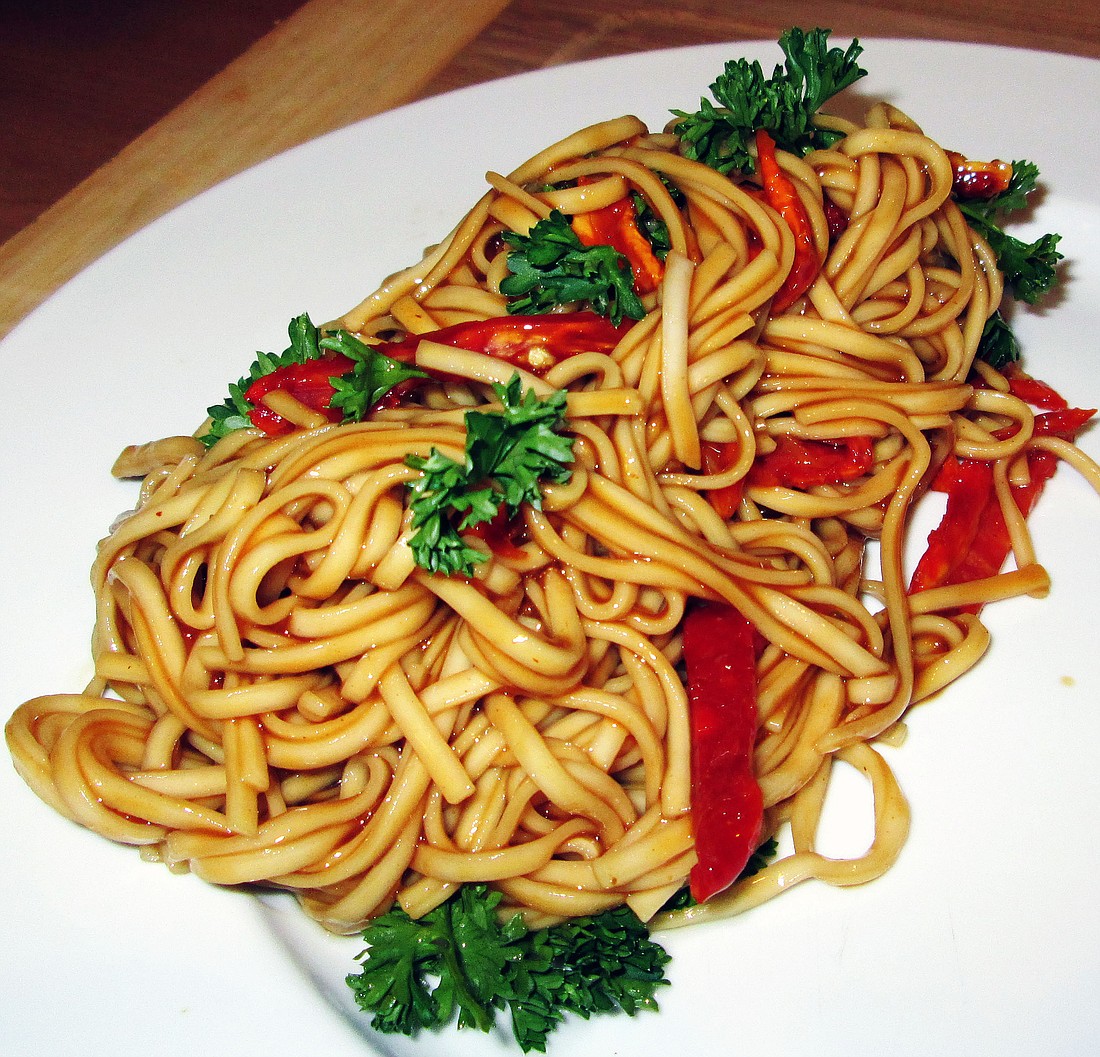 ---
---
Lots of Asian meals are high in sodium, especially those from your local teriyaki place. The average sodium content for Asian entrees ranges from 4,000 to 6,000 milligrams of sodium in one serving. That's more than two people should eat in three days!
 
To cut the salt to keep your heart and kidneys happy, try using sweet, sour, hot, bitter and umami flavors in your Asian dishes. Add color to your meals to appeal to the eyes as well as your palate. For a fast meal, you can't beat instant rice or angel hair pasta, which boils in 2-3 minutes. Tofu cooks quickly and is packed with protein. To make stir-fry meals even quicker, buy plastic deli trays of pre-cut broccoli, carrots and red peppers, or get the ready-to-go veggies from the salad bar.
Spicy noodle stir-fry
 
This is an eye-catching meal that can be fixed in under 15 minutes. The orange peel adds a bitter tone, the red peppers add natural sugar, and the jalapeno adds heat. 
1 package whole grain angel hair pasta
1-2 tablespoons olive oil
1 pound tofu
2 carrots, grated
1 cup broccoli, cut into florets
1 red pepper, chopped
2 tablespoons grated orange peel
½-1 jalapeno pepper, chopped finely
2 cups napa cabbage, sliced
2 handfuls of cherry tomatoes, cut in half
Start boiling water for noodles. Heat oil in frying pan or wok. Sauté tofu, remove from pan and set aside. Add carrots and broccoli, stir-fry a few minutes. Add angel hair pasta to hot water, boil 2-3 minutes. Meanwhile, add red pepper, orange peel, jalapeno and cabbage to pan, stir-fry for 2-3 minutes. Return shrimp or chicken to pan, heat. Add cherry tomatoes. Drain noodles, top with pan mixture. Serves four.
  
Nutritional information (per serving):
Calories: 522, Carbohydrates: 87 grams, Protein: 33 grams, Sodium: 650 milligrams
 
Quick curry stir-fry
  
Instant rice
1 cup thinly sliced onions
½ cup sliced red pepper, broccoli, carrots or pea pods, or a combination

4 cups (3/4 pound) greens (spinach, bok choy, napa cabbage, collard greens, beet greens, etc.)
1 tablespoon olive oil

8 ounces tofu, cut into cubes
1 teaspoon curry powder
1 teaspoon sugar
2–4 tablespoons Ms. Dash low-sodium marinade
½ cup white wine vinegar or unseasoned rice vinegar
 
Cook rice according to package directions. Chop vegetables, cut greens into 2-inch-long strips. Heat the oil in frying pan or wok. Saute tofu with onions about 2-4 minutes, or until onions are translucent. Remove and set aside. Sprinkle curry powder over onions and add sugar and veggies. Cook 1-3 minutes, until bright green, red, orange. Add the greens and cover. Reduce heat and let greens steam in their own juice until tender, 5-8 minutes, uncovering and turning occasionally. Add a little water if needed. Don't overcook or greens will turn dark! Remove greens with slotted spoon, leaving juices in pan. Add Ms. Dash marinade and vinegar, heat to boiling. When sauce is slightly thickened, remove from heat and pour over the greens. Serve with rice. Serves four.
 
Nutritional information (per serving):
Calories: 267, Carbohydrates: 17 grams, Protein: 27 grams, Sodium: 242 milligrams        
 
[Contributor Katy G. Wilkens recently retired as registered dietitian and department head at Northwest Kidney Centers. The National Kidney Foundation Council on Renal Nutrition has honored her with its highest awards for excellence in education and for significant contributions in renal nutrition. She has also been awarded the Medal of Excellence in kidney nutrition from the American Association of Kidney Patients.]
Eating Well, Living Well classes
Studies show that working with a registered dietitian can delay kidney failure and postpone dialysis for longer than two years. FREE nutrition classes taught by Katy's former team of registered dietitians at Northwest Kidney Centers are available at convenient times and locations around Puget Sound. Eating Well, Living Well classes teach people how to eat healthier to slow the progress of kidney disease and postpone dialysis. Learn more at www.nwkidney.org/classes.
View and download this publication.
---
Inspire Positive Aging Award Winners!
The recipients of Sound Generations' 2022 Inspire Positive Aging Awards were celebrated at a June 16 luncheon.
---
A Birthday Gift Safety Manuel
I'm sure most men would agree that buying a birthday gift for your wife is fraught with danger
---
Filipino Village and Senior Housing Community Opens
Seattle's Filipino Community Village and affordable senior housing project opened in June
---
Where in Washington?
And the winner is...
---
Mt Si at Midnight
My best friend, Miggs, loved to climb and coaxed me up anything that was a hill if she could catch me in an unguarded moment. I hated a stiff climb, as even in those long-ago days I was plagued by shortness of breath. She could talk me into the effort by reminding me of how wonderful the view would be from the top. I have always been a push-over for a view.
---