An Editor's Choice
"NO TO POE"
Sharing Stories
August 1, 2022 at 6:31 a.m.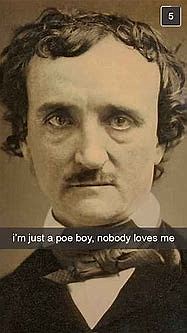 ---
---
 NO TO POE

Dear Mr. Poe: I want you to know
that I'd publish your work in a minute,
but the "delicate set" reads my monthly gazette
and my ladies would blanch at what's in it.

Your characters' capers would give them the vapors
and cause them to swoon dead away,
while I, as a man and a diligent fan,
am confined to the tea and soiree.

The sound of your name brings such fervent acclaim
that I fear my decision is foolish,
but my readers would rise after dropping like flies
and declare that you're simply too ghoulish.

On mindful reflection, this is a rejection.
I've read till the daylight is spare.
One noise, and I glance off cause you scare my pants off—
Good luck with its placement elsewhere.

Pat D'Amico is a columnist with Northwest Prime Time and sometimes a Sharing Stories author, but always funny.

SHARING STORIES is a weekly column for and about the 50 plus crowd living in the Puget Sound region. Send your stories and photos to ariele@comcast.net. Tell local or personal stories; discuss concerns around aging and other issues; share solutions, good luck, and reasons to celebrate; poems are fine too. Pieces may be edited or excerpted. We reserve the right to select among pieces. Photos are always a plus and a one-sentence bio is requested (where you live, maybe age or career, retired status, etc.).
SHARING STORIES is featured on www.northwestprimetime.com, the website
for Northwest Prime Time, a monthly publication for baby boomers, seniors, retirees, and those contemplating retirement. For more information, call 206-824-8600 or visit www.northwestprimetime.com. To find other SHARING STORIES articles on this website type "sharing stories" or a writer's name into the search function above.