Asking for directions
Moses--a Tongue in Cheek Poem
Sharing Stories
August 1, 2022 at 5:25 a.m.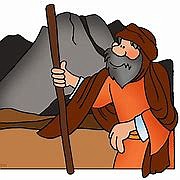 ---
---
 "Moses" 
[a tongue-in-cheek poem]

When Moses started out to travel on the desert long and wide,
he should have been more careful when he started out his ride.
I wonder if he thought as he led the crowd astray,
"Why didn't I take someone who could show us all the way?
Instead of rabble rousers and pesky idol makers,
what I really wish I'd brought were some expert navigators."
I suppose that Moses was a nice man, but he really was a sap, 
to start a trip without directions—not even took a map.
I can hear his wife complaining as they rested in their tent.
"The years are going by, and my back is really bent.
We're no closer to the promised land than we were before.
Oh, why didn't you ask directions at that last Egyptian store?"

Collen Long is a Seattle poet, and she knows it. 😊

SHARING STORIES is a weekly column for and about the 50 plus crowd living in the Puget Sound region. Send your stories and photos to ariele@comcast.net. Tell local or personal stories; discuss concerns around aging and other issues; share solutions, good luck, and reasons to celebrate; poems are fine too. Pieces may be edited or excerpted. We reserve the right to select among pieces. Photos are always a plus and a one-sentence bio is requested (where you live, maybe age or career, retired status, etc.).
SHARING STORIES is featured on www.northwestprimetime.com, the website
for Northwest Prime Time, a monthly publication for baby boomers, seniors, retirees, and those contemplating retirement. For more information, call 206-824-8600 or visit www.northwestprimetime.com. To find other SHARING STORIES articles on this website type "sharing stories" or a writer's name into the search function above.