A New Chapter for Margaret Larson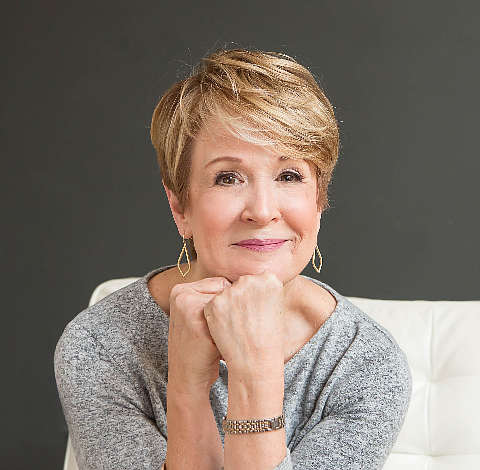 ...by Debbie Stone
Most people in the Seattle area are familiar with Margaret Larson as the face of KING 5's
New Day Northwest
, a position she held for ten years.
We grew accustomed to seeing this personable, empathetic and well-informed woman demonstrate high-caliber journalism day after day. And we relied on her to provide a top-quality program, to be our conduit to all that was happening in the region.
Her curiosity and desire to connect with her interviewees and her audience made her a standout in the arena. She put others at ease with her warmth and sincerity and knew how to engage us with her stories. And because she cared about the issues and wanted to help, we did too.
Some, however, don't know that Margaret Larson's impressive 35-year career also included stints as a London-based foreign correspondent for NBC News and as a news anchor for the
Today
show, as well as a reporter for Dateline NBC and anchor at KING 5.
It's not often that one knows which path to follow when they're young, but Margaret had laser focus by the time she was in high school.
"I knew I wanted to be a journalist," she says. "As a kid, I was a 'news nerd' because my father was a pilot in the Air Force. And the news, particularly the international news, determined where he was deployed...if or when he could come home. I determined I wanted to be a reporter early on."
Margaret moved around while growing up, living on different military bases, depending on where her father was stationed. She remembers the first time the family moved to a house off base in Austin, Texas. "It was a pivotal experience for me," she comments, "because we were in an actual neighborhood." She adds, "I had this giant curiosity about how people lived."
Margaret attended high school in Lubbock, Texas, where she was on the debate team – a pursuit you can imagine brought her much satisfaction. "I liked talking," she says with a laugh. "Talking was my favorite subject in school – that and anything to do with reading and writing." She also participated in theatrical productions and enjoyed singing and playing the piano. Music is still very important to her today and her listening tastes are quite eclectic, ranging from rock and metal to rap and what she labels as "political hip hop."
The first real TV job Margaret had was while she was in college at a small station she describes as being literally in the middle of a cotton field in Lubbock. Two more positions and several years later, she became a correspondent at NBC News just in time to cover the first Persian Gulf War. Over time, she reported from combat zones, interviewed presidents and other notables, and witnessed countless ordinary people doing extraordinary things.
Margaret officially retired last summer and within a few days she left Seattle and drove cross-country to her new digs in Durham, NC. She and her husband Tim, also retired, had initially planned to rent out their Bellevue home with the idea of roaming the world and "living here or there six months at a time." But the pandemic hit, and they put their plans on hold – instead opting to relocate to North Carolina where their son Kyle lives.
Margaret misses the Northwest but is confident she and Tim will return to the area in the future. "The Pacific Northwest is home to us," she says. "We were captivated by the landscape on day one and it immediately felt like home." She adds, "There's something about the place, the spirit of the people, the distinct neighborhoods, all the innovation going on… it's just so very special." Some of her favorite memories are of riding the ferries, renting cabins on Long Beach and hiking up to Paradise and Base Camp on Mount Rainier.
Margaret and her husband had moved to Seattle from New York back in 1993 to focus on family and raise their son Kyle, now 28. Before then, her globe-trotting lifestyle and intensive work schedule took her away from home much of the time.
"We really wanted to have more quality of life, more work-life balance, and live in a community where our son could play outdoors. Also, it was at that time that my mom experienced a recurrence of cancer. She eventually came to live with us before she passed away."
During her years in the Pacific Northwest, Margaret continued to make notable contributions in the world of broadcast journalism. Additionally, she delved headfirst into the nonprofit arena. She formed a communications consulting practice for international nonprofit organizations including World Vision, Mercy Corps, PATH and Global Partnerships, producing videos and online content to assist a variety of humanitarian causes.
Her involvement took her all across the globe, bringing her face-to-face with the Kosovo crisis, the South Asian tsunami, the African AIDS pandemic and the child soldier crisis in northern Uganda. She visited Afghan refugee camps after the launch of the U.S. bombardment and was also involved in maternal/child health programs in India and Asia.
Margaret looks ahead to a retirement that will involve volunteerism, possibly assisting with refugee resettlement or mentoring young journalists. "Volunteering is so rewarding," she says. "I want to continue to help and to make a difference, to do meaningful work."
Now settled in Durham, Margaret has pushed the restart button on her retirement. Of the area, she waxes poetic about being near beaches with warm water (what a concept!), as well as close to the mountains where she can hike and discover waterfalls – one of her latest passions. She takes pleasure in being able to explore the area at her leisure. "The outdoor life is beautiful here," says Margaret. "And there's a great art scene, as well as a notable crafts beer scene. Plus, there are so many interesting people and events going on because of all the universities."
She has taken some classes, helped out at the local food bank and spends time engaging in a variety of recreational pursuits. "We ride bikes," she says, "shoot basketballs, walk, hike, and we do a lot of what Tim and I call 'flaneuring,' or purposely roaming around." The goal, according to Margaret, is to stay active as much as possible, for as long as possible in one's life. She emphasizes the importance of making healthy choices, having friendships and connecting with others, and finding activities or pursuits to allow you to maintain purpose once you've retired.
Margaret Larson is still following her grandfather's advice, who often said, "Look around and see what needs doin'."