The Shape of Fashion
Sharing Stories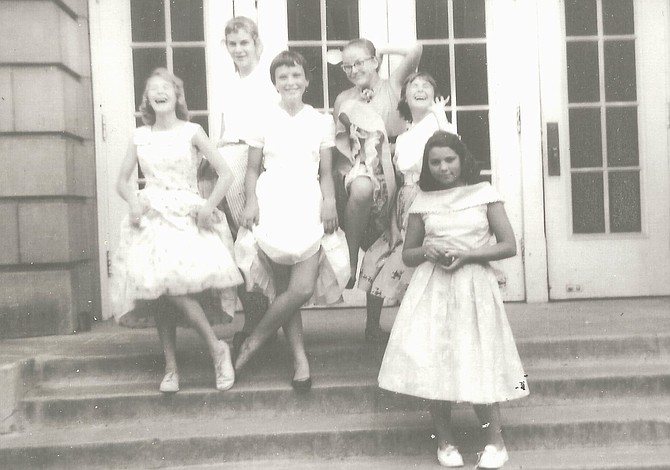 THE SHAPE OF FASHION     
   Independence is a lifetime of finding personal styles and discovering discomfort while trying to become a fashion plate.
   Friendships gather, evolving self-images emerge…looking alike. "What are you going to wear?" mutates into a tribal battle cry. The truly chic, smart, and snazzy know the power of secret undergarments sculpting a perfect body silhouette.
   I used to be broomstick thin when Twiggy was popular. Even then, I wore a girdle with elasticized garter straps to hold up thigh high nylon stockings. Agony: pulling on a tight rubber Playtex girdle. Ecstasy: peeling it off later like a sausage skin. Torturous underwear, pretty much a chastity belt…without a lock and key. I'm sure I heard a choir singing "hallelujah" when panty hose became popular and inexpensive. A clear bottle of fingernail polish to paint on an annoying nylon run was a purse essential.
   Unlike Twiggy, I wanted a shape with bumps and curves in the right places, not like the poem my best friend Marolynn wrote in my ninth-grade autograph book: "What a face–what a figure–two more legs–you'd look like Trigger!" I laughed when I was thirteen.
   I wasn't laughing at twenty-one when I went to a doctor to discuss breast implants to escape my bean-pole nickname. He explained the surgery and the cost, then asked why I wanted implants. My mind went blank after hearing implants weren't as simple as a padded bra. I mumbled, "I want to look better in clothes." There. I'd said it, leaving out expectations of an alluring curvy fantasy.
   The good doctor suggested I try birth control pills for six months because the hormones could stimulate increased breast size. Those hormones did stimulate something. After three months I went from a size five panty to size seven. Instead of growing a voluptuous pair, I was beginning to look like a pear, with hips swaying in uncontrolled rhythm. The need for the pill vanished with the purchase of new bloomers.
   I had read an article in Cosmopolitan Magazine. According to them, if you put a pencil under your breast and it fell to the floor, you didn't need to wear a bra… except, of course, at work or to special "proper" events. I tried the pencil test, it dropped to the floor with a yellow graphite lead thud. On my days off, I expressed myself with this ultimate unleashed freedom. That is, until one day when I almost knocked myself out as I ran across a street with liberated enthusiasm bouncing and swinging in every direction. All I needed was a pair of tassels, a drumbeat, and clicking castanets to give the neighbors a sassy show. It was crystal clear; gravity drops more than an apple on Isaac Newton's head. I no longer needed a new hormone prescription from the doctor to fill me out.
   Styles change with the times, and fashion isn't always easy—from lean teen to well-supplied senior. Either way, pretty underwear can produce a sly rebellious smile. Fortunately, for now, there are no Panty Police.
April Ryan is a retired Seattle bus driver turned Seattle writer/poet. It's our good fortune that she's now sharing more of her fun stories with us.
SHARING STORIES is a weekly column for and about the 50 plus crowd living in the Puget Sound region. Send your stories and photos to
ariele@comcast.net
. Tell local or personal stories; discuss concerns around aging and other issues; share solutions, good luck, and reasons to celebrate; poems are fine too. Pieces may be edited or excerpted. We reserve the right to select among pieces. Photos are always a plus and a one-sentence bio is requested (where you live, maybe age or career, retired status, etc.).
SHARING STORIES is featured on
www.northwestprimetime.com
, the website for Northwest Prime Time, a monthly publication for baby boomers, seniors, retirees, and those contemplating retirement. The newspaper can be found in the greater Seattle area and other Puget Sound locations. For more information, call 206-824-8600 or visit
www.northwestprimetime.com
. To find other SHARING STORIES articles on this website type "sharing stories" in the search function above.