Catching Up With Nancy Guppy
Local comedy icon chats about her life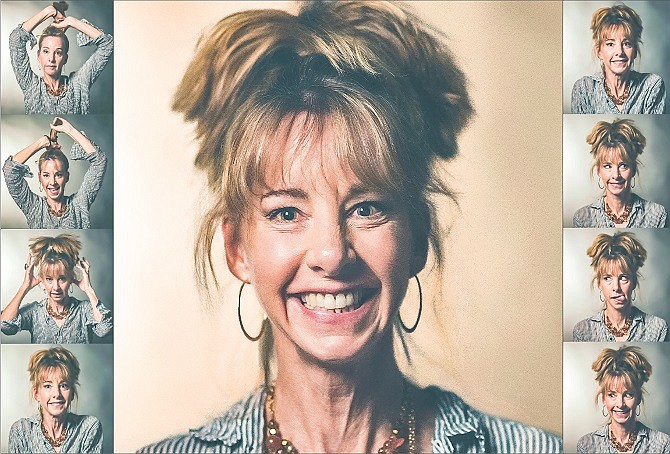 ...by Debbie Stone
Most funny people perceive they're funny at a young age. They know by the reactions they get from their peers and the adults around them. For Nancy Guppy, all the signs were there. "I was always somebody who was irreverent," she says. "I knew I could be entertaining – a kind of unexpected sprite with a quirky personality." She continues, "I didn't take to authority very well and would say and do things that were a bit extreme, a bit absurd. Then again, I could also be mainstream." As evidence of the latter, Nancy mentions she was a cheerleader in high school and a member of a sorority in college. She adds, "But I was always a goofball!"

You probably know Nancy if you've lived in the Seattle area for a while. For ten plus years, she has been the face of Art Zone with Nancy Guppy on The Seattle Channel. You might also be familiar with her longtime gig on KING-TV's Almost Live!, where she was a staff writer and cast member. Or maybe you saw her when the famed sketch comedy show was on Comedy Central.
A native of Seattle, Nancy recalls her youth fondly. "The city had a real small-town vibe then," she comments. "And as a kid, I had incredible freedom. I would bike all day on the weekends, go to movies with my friends at the old, funky theater in Magnolia and just ramble around, exploring my little world."  
She remembers discovering Pike Place Market for the first time and being enamored with the atmosphere. And although she was too young for the hippie culture, she was attracted to its Bohemian spirit.

From Memorial Day to Labor Day, she and her family – mom, dad and older sister, Anne – would spend summers at the family's cabin at Useless Bay on Whidbey Island. "It was idyllic up there and I realize I took it for granted," says Nancy. "My dad and his friend built the place back in 1966 and it was super special." She adds, "We would rent horses and ride them on the trails, go to the beach, make forts and rafts out of driftwood, have lemonade stands and play these elaborate games of make believe." Nancy still visits Whidbey regularly and always includes a drive to Useless Bay to see the old cabin. Sometimes the visit is just for the day, but "when we feel like indulging, we love to stay a night or two at The Inn at Langley."
It's clear Nancy adores her parents, Beverly and Alden Harris, who still reside in the city. She notes they are a very social couple with lots of friends. Her father was a banker after serving a stint in the Navy, and mom stayed home and tended to the household. "She made my breakfast and packed my lunch every day!" says Nancy. "She and my dad are such positive people, and so outgoing. They were attentive parents, but definitely not helicopter types. They allowed my sister and I to have freedom, and to find our own way."
Nancy's parents expected her to be polite, friendly and kind, and they served as great role models in this respect. They also instilled a solid work ethic in her and a strong sense of responsibility, as well as encouraged her to be open to opportunities in life. Glimmers of the career she'd eventually embark upon can be traced back to junior high when she wrote and performed comedy sketches for a talent show. But years went by before she'd find her way back to these roots. After graduating from the UW in Speech Communications, a degree she chose because there was no science involved, she felt like a lost soul and ended up working the phones in the credit department of Nordstrom.
Looking for something to do that would tap into her creative side, Nancy took an acting class at Seattle Central Community College. "That was a turning point for me," she notes. "I liked it and I took more classes, and then I met Joe Guppy, who changed my life."

Joe, who is Nancy's husband, was working with Almost Live! and he got Nancy involved— first as a performer, then a writer. Soon she was hired to be a staff writer and cast member for the show.

For Nancy, Almost Live! was an incredible experience. She says, "It was the best job ever – so fun and a total blast to write and perform comedy and to make money at it! We had tons of creative freedom, and it was great to work with such talented people. Everyone kept their egos in check. It was an even playing field."
Joe was a game changer for Nancy, as he brought her into the creative realms of writing and acting. And most importantly, he helped her believe in herself. In describing her longtime husband, Nancy uses words like, "kind," "focused," "imaginative," "funny" and "cerebral." She adds, "He is also a tremendous teacher."

Nancy and Joe left Seattle for L.A., where they spent three years writing for various TV shows. During this time, Nancy perfected her writing craft. It was a productive period for her but, as she explains, it was also difficult. "I was having a controlled nervous breakdown," she admitted. "I was depressed and anxious and Joe and I were having marital issues. I really needed to be in a more stable place, so we moved back to Seattle."

They returned to the city in 1992 and Nancy resumed work on Almost Live!. Things improved for her mentally and emotionally, as well as between her and Joe. She went on to write, act, host and produce a number of different projects such as KCTS Currents, Salmon Exchange for University of WA TV and Ichabod Caine & the Waking Crew for KMPS Radio.

It was her work as creator and host of City A Go Go, an arts show for The Seattle Channel and KCTS-TV, that was the impetus for Art Zone with Nancy Guppy. The weekly program, which first aired in 2008, highlights Pacific Northwest area artists. A full gamut of genres is represented from visual artists and musicians to dancers, filmmakers, actors, authors and even chefs. "We shine a light on someone or some group," explains Nancy, "and we tell their story."

When the pandemic hit, The Seattle Channel had to suspend production of Art Zone. Nancy simplified the show by hosting it from her living room with Joe shooting her segments using an iPhone. She says, "We called it, Art Zone Phones It In. She adds, "I didn't want the show to just go away. Joe learned how to do iMovie editing and we've had a lot of fun coming up with bits."

Art Zone resumed regular production this fall. "The only real nod to the pandemic is that my interviews continue to be recorded on Zoom," said Nancy. A recent episode features an interview with renowned Seattle-based actor Tom Skerritt about his role in East of the Mountains (view this episode at on YouTube). They have also resumed shooting bands performing in the studio.
In her free time, Nancy is an avid walker. "I walk every day, often as a mode of transportation. Seattle is easy to navigate, plus I grew up here so I know my way around. And I talk out loud to myself when I walk. No doubt it makes me look a little kooky but it's how I work stuff out." She also loves to read, enjoys watching movies and going to art events and, more recently, she has been making her own art. Her work involves finding old paint-by-number pieces that have already been completed and then collaging on top of them. "It's a great process for me," she explains, "and uses my creativity in a completely different way."

At 61, Nancy shares some thoughts about getting older: "I think my drive has mellowed some, and I don't feel I have to prove myself anymore," she says. "I look to see where I want to invest my time and energy and with who." She feels that it's important to continue to expose herself to people, to the world, and to be involved in life. "I will always be curious and ready to learn, that's who I am," she adds. "Curiosity has led me down so many interesting paths. And I'm excited to see what's next."
MORE INFORMATION
• Art Zone with Nancy Guppy on The Seattle Channel offers a lively look at Seattle's creative scene. Highlights include interviews with local artists and performers, with reviews and previews on current arts and entertainment happenings. New episodes premiere Friday nights at 8pm, with additional playbacks throughout the week. For more information, visit www.seattlechannel.org/artZone/

• After last year's suspension of the arts season, Nancy has her eye on some events during the 2021/2022 season, including taking in ACT's A Christmas Carol. She is intrigued because Amy Thone has been cast as Scrooge (alternating the roles of Scrooge and Marley with another great Seattle actor, R. Hamilton Wright). "It's not often that a woman plays Scrooge!" she exclaimed. Nancy is also looking forward to some upcoming museum exhibits and gallery shows. She and Joe recently saw The Jelly Rollers perform in a Phinney Ridge backyard. They also rented the Jewel Box Theater at the Rendezvous for two hours to watch Shine A Light, a Rollings Stones concert shot in 2008 (directed by Martin Scorcese) in honor of the passing of the late, great Charlie Watts. Nancy added, "All to say, these slightly odd arty events are the kind of thing I'll be doing this fall." Plus her show, of course, Art Zone with Nancy Guppy.
• 
PHOTO CREDIT UPDATE: OOPS! 
This great photo by Ernie Sapiro was originally published in  3rd Act Magazine (Aging With Confidence), which covered Nancy and Joe Guppy in 2017. Check out the original story at: 
https://www.3rdactmagazine.com/ lifestyle/living-learning/joe-nancy-guppy-say-yes
/. 
View the issue at: 
https://issuu.com/3rdactmagazine/ docs/3rdact_spring2017
. 
Our apologies to 3rd Act Magazine!