"Fun—Teen Style"
Sharing Stories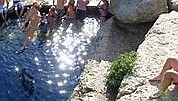 "Fun—Teen Style"
"Past and present—two sides of the same old coin. It's possible to look at only one side…say, the present, which might seem a rational approach, but the past is still there, shaping the heft and size, the depth and overall configuration." (Margaret Coel)
I don't know why this strikes my fancy, but it just seems to trigger the thoughts that connect the "me" now and the "me" then.

One of the fun things we used to do was go swimming at the old gravel pit. It was privately owned land that was sort of maintained as a park. A place where people could come, park their car in a bit of shade, haul out the picnic and enjoy themselves. Or for us, drive up in the parent's car, whoever had gotten theirs for the day, pile out and head for the water. We already had our swimsuits on, and I don't remember changing out of them afterwards. What made the place fun was the forbidden nature of it. Our parents cautioning us to stay away from the deep part. There were rivers and creeks all over the place, but this was the one. We didn't come that much because the water was really cold, and back in those days; 80-degree days were considered HOT! And they didn't come around very often.
There was a plank that someone had nailed to part of the frame out over the water. It resembled a diving board. It was six to eight feet above the water, and the pit was supposed to be at its deepest at that point. So then would begin—the teasing, joshing, daring each other to be the first one to go off, threats to take one of the girls and throw her off. They never did. Sometimes two or three of the girls dragged one of the guys out onto the board and then they'd all jump off together. They actually didn't have to drag that hard. Eventually, one of the daredevils went off, and then, began the parade of divers, each trying to be better than the last. Toward the end, the older high school boys condescended to join in, and some of them were pretty good divers. There was one whose specialty was the swan dive, and he was always the last—that beautiful, graceful pose that then slipped into the water with almost no splash.

Sadly, he was killed in a car accident when he was 19.
Frieda Kirk, longtime Washington resident, continues to entertain us with this piece, done in response to Ariele's request for FUN stories to go into her anthology of those.
SHARING STORIES is a weekly column for and about the 50 plus crowd living in the Puget Sound region. Send your stories and photos to ariele@comcast.net. Tell local or personal stories; discuss concerns around aging and other issues; share solutions, good luck, and reasons to celebrate; poems are fine too. Pieces may be edited or excerpted. We reserve the right to select among pieces. Photos are always a plus and a one-sentence bio is requested (where you live, maybe age or career, retired status, etc.).
SHARING STORIES is featured on www.northwestprimetime.com, the website for Northwest Prime Time, a monthly publication for baby boomers, seniors, retirees, and those contemplating retirement. The newspaper can be found in the greater Seattle area and other Puget Sound locations. For more information, call 206-824-8600 or visit www.northwestprimetime.com. To find other SHARING STORIES articles on this website type "sharing stories" in the search function above.