The new convenience food: butternut squash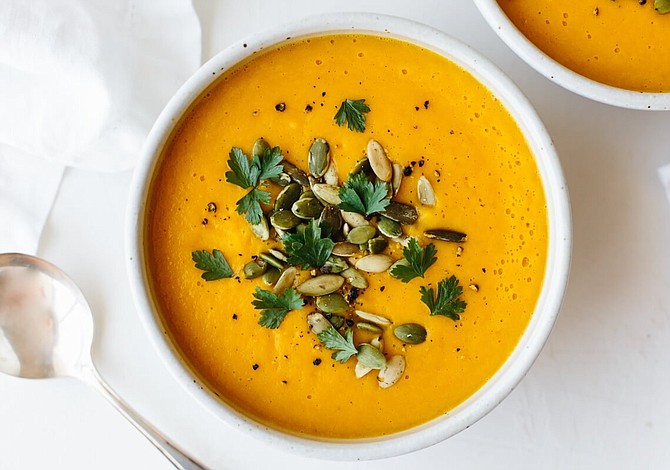 Some years I get squash from my garden, and other years I get none. I'm very happy with the current crop of eight butternut squash. I pulled them from the garden recently as a big storm threatened.
Mild with a relatively thin skin, butternut squash is my favorite. It's easier to prepare than other varieties and keeps all winter in my basement.
If you don't have a garden, look for squash in the supermarket now or your local farmers market. After my own are gone, I like the convenience of buying butternut squash that is already peeled and cubed, which eliminates a semi-daunting task (I cut mine with a meat cleaver).
For a quick veggie dish, microwave a covered bowl of cubed butternut squash. Or bring out the caramelized sweetness of the squash by oven roasting — toss with a little oil and cook in a 400 degree oven for 20 minutes or so, turning occasionally.
Nothing beats a bowl of butternut squash soup for lunch on a cold day when I come in with rain dripping down my neck. Squash soup also makes a simple and tasty dinner served alongside a winter green salad and crusty bread.
Another favorite is my husband Rich's recipe for butternut squash with mixed rice. You can buy bags of mixed, whole grain rice (with black, brown, red and sometimes wild rice) in most grocery stores.
All of these tummy-warming dishes are low in salt and healthy!
Thai squash soup
1 tablespoon cooking oil
3 cloves garlic, minced
3 celery stalks, chopped
1 large onion, chopped
2-inch piece ginger, cut in 1/4-inch slices
1 tablespoon yellow or black mustard seeds
3 cups low sodium chicken broth
3-4 cups butternut squash, steamed and peeled, or cubes in a bag that are steamed
3 stalks fresh lemon grass, dried lemon grass or lemon grass paste
½ to 1 teaspoon cayenne pepper
¼ cup low-fat coconut milk
Garnish: salt-free peanuts or chopped cilantro leaves
Roast, steam or microwave squash or squash cubes. Sauté celery, onion and ginger in oil. When onions are lightly browned, add mustard seeds and garlic. Heat until mustard seeds start to pop, and then add chicken broth, cooked squash, cayenne pepper and lemon grass. Simmer for about 30 minutes, stirring occasionally. Remove ginger and lemon grass. Puree soup using immersion blender, food processor or blender. Stir in coconut milk and serve garnished with sprinkle of peanuts and/or chopped cilantro.
Nutritional Information (serving size: 1 cup):
Calories: 102, Carbohydrates: 17 grams, Protein: 3 grams, Sodium: 70 milligrams
Rich's butternut squash with mixed rice
2 cups mixed, whole grain rice (black, red and brown)
3 cups water
2 tablespoons unsalted butter
1 cup chopped onion
2-3 cups raw cubed butternut squash
1 teaspoon nutmeg
1 teaspoon cinnamon
Fresh ground black pepper
Cook rice on stove or in rice cooker according to package directions. Meanwhile, melt butter and sauté onions. Add squash cubes and spices, then cook until fork tender, stirring occasionally so they do not burn. When rice is done, let rest about 5 minutes. Add butternut squash to rice.
Serves 4 as a main dish and 8 as a side dish.
Nutritional Information:
4 servings: Calories: 440, Carbohydrates: 87 grams, Protein: 10 grams, Sodium: 16 milligrams
8 servings: Calories: 220, Carbohydrates: 43 grams, Protein: 5 grams, Sodium: 8 milligrams
[Katy G. Wilkens is a registered dietitian and department head at Northwest Kidney Centers. The National Kidney Foundation Council on Renal Nutrition has honored her with its highest awards for excellence in education and for significant contributions in renal nutrition. She has also been awarded the Medal of Excellence in kidney nutrition from the American Association of Kidney Patients.]