Bewitched by Salem
Travels with Deb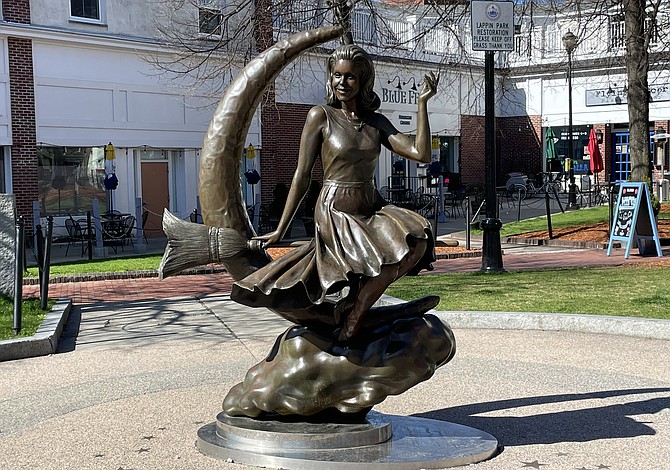 The first tarot card the psychic at Pentagram turned over was a sun, which I was told signifies optimism, success, vitality and fun. She then proceeded to tell me I would have several opportunities coming my way soon. One would be career related; the other not. And a third was going to be a distraction I should not undertake. Other cards she chose indicated good health and awareness, as well as increasing strength in the wake of grief. She was right on the mark with this one, as my father passed away last fall.
It was an auspicious start to my visit to Salem, one of our country's most historic towns and a destination I had tried to visit twice last year. Three times really was the charm.
Most visitors to Salem are drawn to its well-known witch history. They primarily come to see the attractions that focus on a very dark period of time in the town's past. Along the way, however, they discover that the city is a many-faceted destination.
For a great overview of the town, take a narrated tour on the Salem Trolley. In one hour, you'll get a crash course on nearly 400 years of history. Points of interest include the Witch Trial Memorial, House of Seven Gables, Salem Witch Museum, Witch Dungeon Museum, Salem Witch House, Pickering Wharf, Salem Maritime Site, Winter Island, Chestnut Street, and more. The trolley works as a shuttle, too, so you can get on and off at any one of fourteen stops.
The tour is informative and entertaining, with colorful tales of key people and pivotal events. You'll learn that Salem was among the first permanent settlements established in the country, having been founded by a band of Puritan fishermen under the direction of one Roger Conant.
The town eventually became a maritime powerhouse and leading port. A third of all ships in the country were built here and the city became very prosperous as a result. Eventually, however, shipbuilding declined and other industries took over, particularly leather tanning and textile.
Your guide will point out various buildings, homes, shops and statues, providing context to each. You'll ooh and aah as you drive by the massive, stately Federal style mansions in the Chestnut Street District. Designed by Samuel McIntire, known as the "architect of Salem," these handsome beauties are very photogenic.
You'll also pass by the Ye Olde Pepper Candy Shop. Put it on your list to visit, as it's the oldest candy store in the country and you'll definitely want a tasty souvenir. According to our guide, Oprah is a fan of the place and orders boxes of chocolate turtles each month to give as gifts.
At nearby Winter Island, there are bunkers that stored ammo during WWII, as the place served as a military installation. Get your leis ready as you drive by the island's own Waikiki Beach, sans the tropical breezes.
I also highly recommend doing the A.M. Coffee Walk with Salem Food Tours. Owner Karen Scalia combines her passion for food with history, and gives a great orientation to the city, past and present. She is a wealth of knowledge and has the inside scoop on all things Salem.
You might be surprised to learn that Salem is a town of firsts. The country's first millionaire, Elias Derby, was from Salem and this is where Alexander Graham Bell completed the first successful long-distance telephone call. The city is also the birthplace of the U.S. National Guard and it's where Parker Brothers produced the game "Monopoly."
The Coffee Walk covers Salem's spice history, too – a period that spanned the end of the American Revolution to the War of 1812. Thanks to Captain Jonathan Carnes, who sailed into town from Indonesia with a load of pepper, Salem became the center of the spice trade in North America.
To conclude the tour, you'll visit Salem Spice for a spice and olive oil tasting session. Of the spices and seasonings I sampled, the Alderwood Smoked, Chipotle Honey Rub and Amchur were my favorites; the latter which is made with green mango and has a tart citrus essence. And I waxed poetic over the Cranberry Pear White Balsamic Vinegar.
The most popular witch trial-related attractions are the Witch Museum, Witch Dungeon Museum, Witch Trials Memorial and Witch House.
It's hard not to notice the Witch Museum, as the building, an historic church, is very imposing. The museum was created to help people understand the true story behind the events of 1692.
The Salem witch trials were incited by mass hysteria among the area's deeply religious populace regarding witchcraft in their communities. Two young girls, Abigail Williams and Elizabeth Perry, started the chain reaction after having uncontrollable fits of rage. A doctor diagnosed witchcraft as a possible aliment, which spurred more women to act similarly. Fingers were pointed and within months, nearly 200 people were accused of the crime of witchcraft on the basis of insidious lies, suspicions and ignorance.
The colonial governor of Massachusetts, Governor Phips, created a special tribunal to deal with the matter. Nineteen of the condemned were executed by hanging and one was pressed to death by stones. Several others died in prison awaiting their fate.
Over time, the public grew tired of the trials and several began denouncing the prosecutions. Governor Phips ceased the proceedings, not because of public pressure, but because his wife became a suspect. He ultimately pardoned the guilty in 1693.
In the first part of the museum, visitors sit on benches in a darkened room, as they watch the aforementioned events unfold via the use of thirteen life-size stage sets. The sets are complete with figures, lighting and narration, offering an immersive presentation.
The second part of the museum provides background on the development of witchcraft beliefs in Europe, explains the evolution of the image of witches and then discusses the terrifying aspects of modern-day witch hunts.
In the Witch Dungeon Museum, you'll be treated to a live reenactment of one of the actual witch trials, adapted from 1692 historical transcripts. The presentation brings to life the horror of those unjustly accused and the hopelessness of their situation against a system that did nothing to protect them. It's followed by a guided tour of a recreated dungeon with all its abject and inhuman conditions.
The Witch House is the 17th century home of Witch Trials Judge Jonathan Corwin, who lived here with his family for over forty years. It's the town's only remaining structure with direct connection to the terrible events of 1692 and as such, is one of Salem's most recognizable and photographed buildings. Contrary to its name, there were never any convicted or accused witches living in this house. The place, however, is rumored to be haunted.
A visit to the Witch House is a step back in time to the lifestyles, furnishings and architecture of this period in history, with insight into the particular events of 1692. You realize how easily someone could be accused of witchcraft in colonial America. Salem's populace was comprised of Puritanical, intolerant people with a deep-seated fear of the devil. Anyone who stood out, acted differently or wasn't part of the mainstream society had a target on his/her back.
I was most impacted by the Witch Trials Memorial. The memorial is strikingly simple, yet incredibly powerful. At the entrance are inscriptions in stone of the victims' protests of innocence. A three-sided granite wall creates a perimeter; within which are stone benches bearing the names and execution dates of each of the twenty victims. It's an enduring tribute to these individuals, who chose death rather than compromise their personal truths.
Two of my favorite nonrelated-witch attractions in Salem were the House of Seven Gables and the Peabody Essex Museum, or PEM as it is often called. The House of Seven Gables, or the Turner-Ingersoll Mansion, is a colonial, large timber-framed home that is best known for being the setting for distinguished author Nathaniel Hawthorne's celebrated novel of the same name.
A Salem citizen, Hawthorne spent his formative years living in the community before returning later in his life with his wife, Sophia. The town and its history had a profound impact on him and served as inspiration for a number of his books. Interesting to learn is that the author was so ashamed of his Puritan ancestors and their unsavory actions that he changed his name from Hathorne to Hawthorne to distance himself from them.
Built in 1668, the house went through different renditions and various owners before it was inherited by Hawthorne's second cousin, Susanna Ingersoll. Hawthorne used to visit his cousin and became very familiar with the home. Later, it became the property of Caroline Emmerton, a philanthropist and preservationist, who worked to restore its original appearance.
The site, which also includes Hawthorne's birthplace and two other dwellings, is designated a National Historic Landmark District. Before or after your tour, take time to meander around the grounds and admire the lush gardens, as well as the lovely seaside views.
The Peabody Essex has the distinction of being the oldest continuously operating and collecting museum in the U.S. It possesses a staggering number of works of art and culture, from maritime and American art to Asian, Oceanic and African collections.
PEM actually comprises three campuses, Salem being the main hub. Centered on the historic East Marine Hall of 1825, the museum has had various additions over the years and now includes 33 other buildings, 24 of which are historic houses. It also boasts the only complete Qing Dynasty house outside China.
The Yin Yu Tang was home to the Huang family for more than two hundred years. By the mid1980s, the house stood empty. As part of a cultural exchange agreement, the museum was able to obtain the building. It was dismantled and shipped to the States, trucked to Salem, where it was meticulously reconstructed and opened to the public in 2003. Visitors can do a self-guided tour of the place and gain a unique perspective on Chinese art, architecture and culture, while imagining eight generations of the dwelling's inhabitants going about their daily lives.
I spent much time perusing the museum's collection of "Salem Stories." This exhibit is a compilation of vignettes about the people, places and events that shaped the area, with paintings, sculptures, manuscripts, artifacts, even a specimen of an ancient leatherback turtle, and more.
You'll definitely work up an appetite seeing all the sights in Salem. Good to know that the town boasts a vibrant culinary scene. Seafood reigns supreme, which was music to my palette.
Chowder and lobster are mainstays on many restaurant menus in town. Red's Sandwich Shop has a Lobster Mania selection, where you'll find this tasty crustacean in rolls, quesadillas, grilled cheese sandwiches, mac n' cheese, on flatbread pizzas, in sliders, and more. The decision-making process was agonizing!
I had memorable dinners at both Turner's Seafood at Lyceum Hall and the Adriatic Restaurant. At Turner's, it's all about New England fresh, local, catch of the day fare. The place boasts an authentic shuck and serve oyster bar plus it has a seafood market right on site. Offerings are extensive with everything from Baked Stuffed Shrimp and Haddock Marsala to Fish Cakes and Tuna Sashimi. I'm still dreaming of the Clams Casino and Crab Pie I devoured. Staff are friendly and provide attentive service in this upbeat, casual establishment.
Mediterranean-inspired fare is the specialty at warm and inviting Adriatic. The menu features brick oven pizzas, pastas and fresh seafood. My husband and I shared a Bag of Munchkins (lobster, corn and scallion fritters) to start, then split the salmon and risotto with shrimp. For dessert, we settled on the Pistachio Rose Water Cake. We scraped our plates clean, then proceeded to walk off our meal on Salem Night Tours' "Haunt and History Tour."
As we strolled the streets, our guide regaled us with spooky legends and purported hauntings of various buildings in town. It was a full moon that night, which heightened the eerie quality to the experience and upped the goosebump ante.
You can shop till you drop in Salem, especially if you're looking for magic and occult-themed items, or Halloween merchandise. Harry Potter fans will want to make a beeline for Wynott's Wands, where handcrafted magic wands have been elevated to an artform. And there's no shortage of psychics in town, who will be happy to do a reading for you.
When it comes to accommodations, you'll be pleased to know that Salem has a variety of options. As history played a dominant role during my visit, I chose to stay at the Hawthorne Hotel, a member of Historic Hotels of America. Adjacent to Salem Common and walkable to all major attractions, this iconic property, with a rich heritage, has been a landmark in town for a century. Architects consider it a classic example of the Colonial Revival style.
Deciding upon the hotel's name was a no brainer back in 1925, due to the fact that it was located near three buildings with connections to eminent author, Nathaniel Hawthorne: The Mall Street home where he wrote the Scarlett Letter, the Herbert Street residence where he grew up, and his birthplace on Union Street, which was subsequently moved to the House of the Seven Gables complex.

Many generations have fond memories of celebrating special events in the Hawthorne's Grand Ballroom. And over the years, the place has attracted numerous celebs, including Bette Davis, Johnny Cash, Robert de Niro, Jennifer Lawrence, Walter Cronkite, Presidents Bill Clinton and George H.W. Bush, Colin Powell and more. But its fame really skyrocketed when Elizabeth Montgomery and Dick Sargent, and the rest of the cast of the popular T.V. show, "Bewitched," stayed at the hotel to film scenes for "The Salem Saga."
There are framed photos of the event and even of the menu created by the hotel's chef to commemorate the occasion, with such dishes as Green Goulish Stew (fish chowder), Fried Salamander (fried shrimp) and Eye of Newt Ambrosia (zucchini squash).
The hotel offers spacious, well-appointed guest rooms with comfy beds, a classic-style lobby, two on site restaurants (Tavern and Nathaniel's) and free parking; the latter which is always appreciated. I found the staff to be exceptionally welcoming and patient with my many questions.
If you go:
Debbie Stone is an established travel writer and columnist, who crosses the globe in search of unique destinations and experiences to share with her readers and listeners. She's an avid explorer who welcomes new opportunities to increase awareness and enthusiasm for places, culture, food, history, nature, outdoor adventure, wellness and more. Her travels have taken her to nearly 100 countries spanning all seven continents, and her stories appear in numerous print and digital publications.