Meet the celebs of Saguaro National Park
Travels with Deb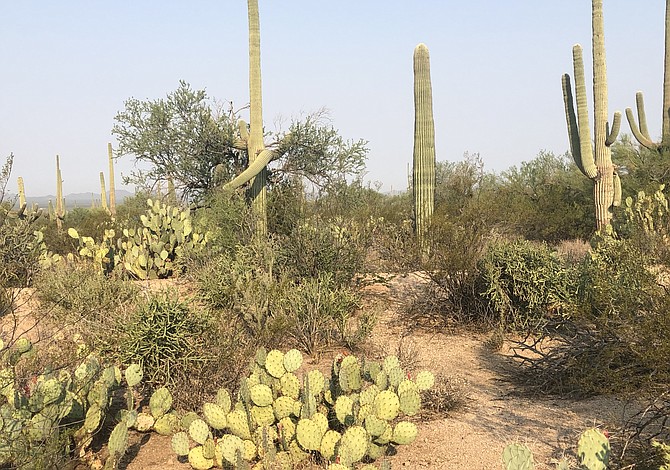 Cacti are quirky characters with their prickly, spiny exteriors and odd, irregular shapes. You either like them or you don't. I personally find them beautiful and admirable for their unique qualities.
These plants are real troopers. They're stalwart, perseverant and possess ever-enduring patience. Their needs are few and they handle challenging conditions with aplomb.
In some ways, cacti share commonalities with humans. Like people, they come in many different varieties. Both also have dormant periods and periods of intense growth and blooming. And you probably know a person or two who appears tough on the outside, but is a real softie inside – the cactus type!
The saguaro cactus is particularly fascinating. It's the largest cactus in the country and found only in the Sonoran Desert of Arizona. This species is so special that it has a national park named after it.
Saguaro National Park is located on the outskirts of Tucson, and is represented by two sections: the East or Rincon Mountain District and the West, known as the Tucson Mountain District. The districts are about thirty miles apart and the city lies between them.
The area first became a national monument back in 1933 under pressure from local conservationists who demanded protection for the saguaro. It finally received national park status in 1994.
This unusual looking cactus has a commanding presence over the landscape and is regarded as one of the defining plants of the Sonoran Desert. Over the years, it has become a symbol of the American West, and has been the subject of many photographs. It has also been given star-studded treatment in many western films.
"Saguaro" is a Native American word, but the plant's formal name is Carnegiea gigantea, so dubbed in honor of Andrew Carnegie, who was a noted patron of the arts and sciences.
As you explore the park, you can learn numerous interesting facts about this cactus via informative displays. You'll discover that the saguaro grows very slowly and its height is dependent on the amount of available water. Though a young plant may only grow one to one-and-a-half inches in its first eight years, an adult can reach up to sixty feet. The tallest saguaros are about 200 years old and can have as many as fifty arms.
Saguaros don't begin getting their notable curved arms until they're around fifteen feet tall and most likely have passed their 75th birthday. But the arms are not a given, as some of the cacti never branch out.
You'll also observe that these cacti have long, woody ribs, which support their multi-ton weight. The more hydration they receive, the heavier they'll get, as they expand to store the moisture.
The saguaros put on a show in May and June when they produce cream-colored blossoms. This blossom is actually the Arizona State Flower. Later in the summer, a deep-red fruit appears, and the wildlife has a feast. Some creatures not only feed upon the plants, but they also create nests in them.