It's time to jive with chives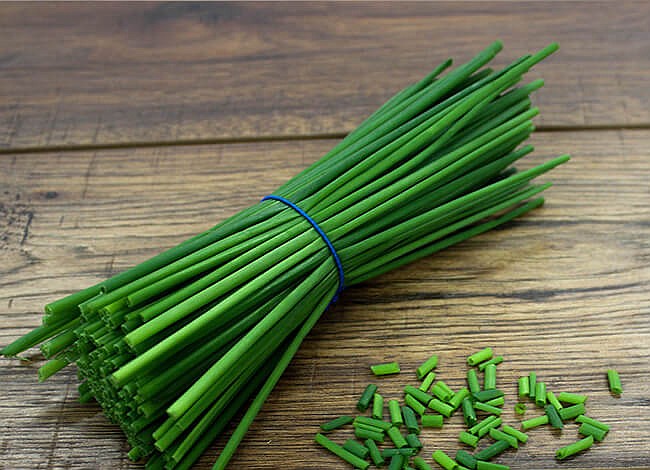 Green shoots are poking up where my chives grow. I am giving them a "haircut" almost every night and adding their sweet, green, clean, onion flavor to soups, salads, dips and egg dishes. And I am waiting for the beautiful purple flowers that appear at the top of many of the stalks.
Chives will grow almost anywhere. You can grow them in a pot indoors or stick a few clumps in a flowerbed. They are a great onion substitute, and their flavor and color really shine when you add them to dishes that don't cook long, especially egg dishes. No need for salt, which is bad for your heart and kidneys, when you have the potent flavor of chives to brighten your meals. My favorite ways to use the flowers are sprinkled over a salad, or to tear them into individual blossoms and mix them with the finely chopped leaves into goat cheese.
A fun relative of our native chives is garlic chives, sometimes called Chinese chives. Their stems are solid, unlike the hollow-stemmed native types, and the flowers are white instead of purple. Garlic chives stand up to stir-fry dishes if you add them toward the end of cooking. They're also great in salt-free homemade marinades.
Chive blossom cheese spread
1/2 teaspoon oil
2 tablespoons garlic, minced
1 cup chevre goat cheese or fresh ricotta
1/2 cup fresh parsley, chopped
1/4 cup fresh sage, finely chopped
1/4 cup chive blossoms, or as many as you have
1/4 cup chives, finely chopped
2-4 tablespoons half-and-half or milk
Brown garlic in oil in small saucepan over medium heat a few minutes until it turns golden. Watch carefully as it burns easily! Remove and stir into cheese. Chop fresh herbs and add to goat cheese. Mash half-and-half or milk into cheese, stirring until it is a good, spreadable consistency.
Nutritional information (per serving, 2-3 tablespoons):
Calories: 45, Carbohydrates: 2 grams, Protein: 1 gram, Sodium: 25 milligrams
Spring chive omelet
2 eggs
2 tablespoons cold water
1 teaspoon oil
2 tablespoons grated cheese (try gruyere)
1-2 sautéed sliced mushrooms (or morels if you can get them)
3 tablespoons chives, finely chopped
2 tablespoons chive flowers, optional
Beat eggs in small bowl with fork until well mixed. Add cold water. Heat oil in skillet, add eggs. Sprinkle with cheese and mushrooms. When surface of egg appears somewhat dry, sprinkle on chives and flowers. Save a few as a garnish. Fold omelet, then cook another 30 to 60 seconds. Serve on a warm plate. Garnish with chives and chive flowers. Serves one.
Nutritional information:
Calories: 250, Carbohydrates: 3 grams, Protein: 18 grams, Sodium: 191 milligrams
[Katy G. Wilkens is a registered dietitian and department head at Northwest Kidney Centers. The National Kidney Foundation Council on Renal Nutrition has honored her with its highest awards for excellence in education and for significant contributions in renal nutrition. She has also been awarded the Medal of Excellence in kidney nutrition from the American Association of Kidney Patients.]