Northwest Nebraska is full of surprises
Travels with Deb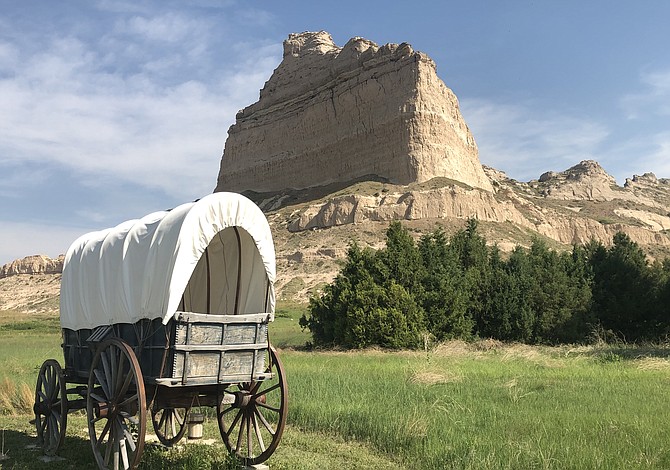 This summer, the road trip is being rediscovered by many travelers during what has become the new "normal." They're taking off in cars, campers, RVs and motorcycles, seeking opportunities to explore our country's natural playgrounds.
Some are opting for the road less traveled in order to avoid potentially crowded areas. The upside to this plan is the potential of finding hidden gems along the way.
Take Northwest Nebraska, for example. Definitely not on my bucket list. But, the region was incorporated in the route I chose in order to reach my intended destination, the Dakotas. I expected a boring and dull ride through this section of the state, but instead encountered fascinating historical sites and geological wonders, as well as one very quirky roadside attraction.
My curiosity ended up taking me on a few detours, primarily to explore important landmarks for pioneers making their way out west during the mid-1800s. Tens of thousands of people traveled through this area, attracted to the forgiving terrain along the Platte River. The Oregon, California and Mormon Trails, and the Pony Express all used this passageway, making the route the "Main Street of America."
Chimney Rock, located near Bayard, Nebraska, served as a point of reference and beacon of encouragement for the pioneers. It indicated the end of the plains and the beginning of the Rockies. With a peak that at one time measured 4,226 feet above sea level, it was the most recognized landmark on the Oregon Trail and impossible to miss. One pioneer aptly described this sentry of the plains as "Towering to the Heavens." Fur trappers called it "The Chimney," while others referred to it as, "Nose Mountain" or "The Smokestack."
In 1956, Chimney Rock was designated a National Historic Site. And in 2006, it was depicted on the Nebraska State Quarter. The unique formation has come to symbolize the largest voluntary migration in the history of our country.
Another landmark along the Oregon Trail is Scotts Bluff, located near the town of Gering. Rising 800 feet above the North Platte River, this National Monument is named for fur trapper Hiram Scott, who died there in 1828. Different versions to the story of his death exist, but the prevailing tale says he was abandoned by his comrades, perhaps because he was seriously injured or ill. His bones were supposedly found near the North Platte River, though the exact site has never been located. Today, a plaque dedicated to his memory has been instilled along the North Overlook Trail on the summit of the bluff that bears his name.
The bluff was a prominent focal point for Native Americans before it became a trail marker for the emigrants who traveled westward, as well as for riders of the Pony Express. The pioneers knew for sure they had made it to western lands when they saw Scotts Bluff. The fortress-like formation gave them hope, as they knew that at least a third of the trail lay behind them.