Finding the best price for prescriptions
By Maddie Smith
We've all seen the commercials for GoodRx while flipping through the television channels or magazine pages. If you haven't heard, GoodRx is a discount card with a website and mobile application that promises to deliver the best deals on prescription drugs. Doug Hirsch, co-CEO of the company, says GoodRx works with nearly every pharmacy in the United States. The question is, how exactly does it work?
Prices of prescription drugs vary depending on the pharmacy. The GoodRx website has a large search bar where you can type in the name of your pharmaceutical drug. Once the results of the search formulate, you can enter your location to find the pharmacies in your area and compare the prices. The results of the search will offer customers transparency as far as pharmacy prices of the drug.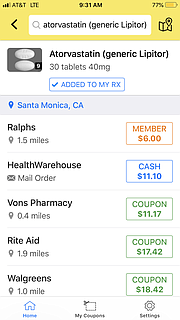 There are often free coupons that are available to present to specific pharmacies by printing them or downloading them on your device.

Having health insurance, including Medicare, does not disqualify individuals from using GoodRx. It cannot be combined with insurance, although certain discounts might end up being cheaper than a copay. Comparing GoodRx savings with insurance copays allows patients to weigh all options before deciding the best route of paying for their prescription.

The service is also available for those who do not have health insurance. GoodRx is a great tool for people who are forced to pay for their prescriptions out-of-pocket or who do not have a very inclusive health insurance plan, according to Dr. Jeffrey Paup, pharmacist and professor at University of Maryland's School of Pharmacy.

GoodRx works with pharmacy benefit managers to keep drug costs down. If pharmacies want to work with benefit managers, who act as liaisons between the insurance companies and the pharmacies, they must accept discount cards. GoodRx makes money by charging pharmacies a fee whenever a customer uses their discount card and splitting that money with the pharmacy benefit managers they partner with. This allows the company to keep the service free to customers.
"They charge the pharmacy a fee for giving you a low price," said Dr. Paup.
Sometimes the pharmacy makes less money by selling the drug for a discounted rate than the fee they have to pay to GoodRx. Discount cards can be bothersome for pharmacies because they lower the price of the drug on top of charging the pharmacy a fee, but in order to work with pharmacy benefit managers, they must accept GoodRx coupons. Some pharmacists work around the system by simply matching the price offered by GoodRx to avoid the fee.

Another downside for pharmacies is the high transfer rate of customers. GoodRx users need to call their pharmacists to transfer their prescription each time they want greater savings at another pharmacy, which is a headache for pharmacists.

GoodRx is not subject to the same audits that pharmacies are. Though GoodRx does not carry drugs, it does handle health information of their customers.

"It's a little ambiguous on how they use it," said Dr. Paup.
Despite these downsides, GoodRx helped customers save a total of over $10 billion as of last year.