From the streets to the screens
Organizer of the first Earth Day discusses the holiday's 50th anniversary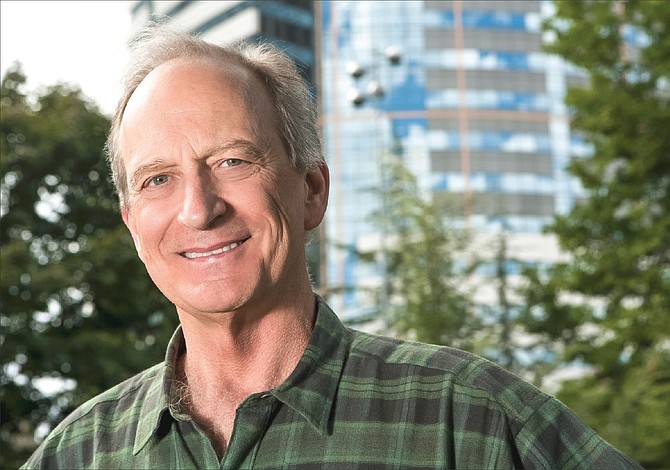 By Maddie Smith
Readers may remember Denis Hayes' smiling face on the cover of Northwest Prime Time's March/April issue. Hayes organized the first Earth Day in 1970. April 22 marked the 50th anniversary of Earth Day, but there was a lull in the air stay-at-home orders were instituted across the globe. Hayes, a Washington local, goes over the original plans for Earth Day's 50th, the digital event that took place in lieu of the face-to-face activities and actions individuals can take to protect the earth.
The original plan for the 50th anniversary was to put together the largest global coalition of people advocating for an issue ever, said Hayes.
"Our aspirations were a billion people on the streets in nearly 200 countries," he said.
Hayes had roughly 150 staff members working on events for the 50th anniversary of the world's largest secular holiday. Staffers were hard at work advocating for policy and regulations that protect the climate.
"The crisis now is sufficiently great and sufficiently urgent and imminent and we need bold action," Hayes said. "The focus was effectively a green new deal."
The events were scheduled over one week. The three-day long finale would begin on Wednesday, April 22. This day was going to focus on global climate solutions. Thursday, April 23 would be put on by the environmental organization 350 and would center around standing up against the financial institutions that support the fossil fuel industry. Climate justice was to be the emphasis for the next day, Friday, April 24.
Hayes said that Friday would be dedicated to "The poor of the world but also the unborn. Talking about those folks who have no voice at all in climate decisions who are the most at risk and affected by it."
Hayes was emotional about the cancellation of in-person events scheduled for the landmark anniversary of the holiday he began organizing in 1970.

"It was two years of work kind of flushed down the toilet," he said.
Instead of large gatherings across the globe, the world tuned in for the digital celebration of the holiday from every time zone.

"They tried to have something for everyone," said Hayes.
Digital events included talks by Pope Francis and John Kerry, artists playing guitar and singing from their living rooms and displaying their visual art to a global audience. Street art was originally planned to play a large role in Earth Day events.
For Hayes, the sentiment of Earth Day changes with each year. The air surrounding the holiday organized to protect the climate shifts along with the political climate.
"The tenor of the event is generally driven by the figure in the White House and the approach to the environment," Hayes said. "This year, the whole theme was not one of celebration."
Current news articles chronicle environmental regulations that the Trump administration actively undermines.
"This is the most anti-environmental administration in history," said Hayes.
Since the original plan of global rallies for environmental policy was not possible this year, except virtually, Hayes said "Let's make Election Day Earth Day in 2020."