Sneaking Out Safely
And other words of wisdom from a nature lover.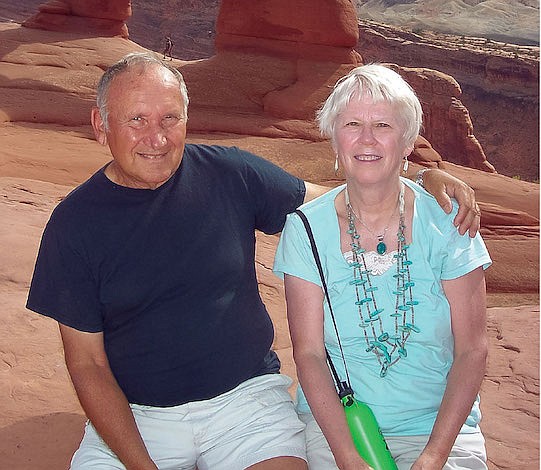 ...by Roger Urbaniak
I have been safely sneaking out on wilderness outings.
I've been able to pick asparagus and morel mushrooms (an essential annual outing for me) while enjoying the wildflowers as they begin to bloom and watching wildlife come out for the new spring grass. During my secret getaways, there has been no problem with maintaining social distancing.
I have also been active painting the outside of my house and putting a coat of reflective material on my roof. I've split over one cord of wood, waxed both cars and worked in our garden.
I am running out of home projects, though, and need to continue getting outdoors where I am the happiest. I'm anxious to start fishing and gathering shellfish again.
Many of us are looking for ways to keep from going stir crazy. Since I enjoy being busy and feeling productive, I'm always trying to think up new things that have not been forbidden. Here are a few of my ideas:
STAYING FIT: My normal routine had been to play pickleball or tennis three to four times a week. With fitness clubs and sports fields closed, I rely on activities around home to stay fit. Fortunately, I have a rowing machine and stationary bike that, after a little dusting off, proved to be workable. Together with splitting firewood and walking the dog, I am at least slowing the weight gain until I can get back to tennis and my health club.
SPRING CLEANING: Knowing that it did not have to be done all at once, I surveyed our house and identified the many jobs that could be done to make our home more livable. Getting rid of things that have not been used in at least 10 years frees up living space and can be used for reducing taxes if donated to charity and receipts kept. Go room by room so the job doesn't seem overwhelming. Straightening out a room and rearranging it brings an immediate feeling of satisfaction. Cleaning up in the yard and garden is part of spring chores too.
READING, WRITING & BUSINESS REPORTS: Taxes take lots of time each year, and staying at home has allowed me to catch up with getting my taxes ready for my CPA. Linda and I kept travel journals for the many years we toured the country in our VW Eurovan. Now we get a chance to read them to each other by the fireplace and decide whether we had a good time during our travels.
MAINTAINING SOCIAL CONTACTS: Without home dinner parties or eating out with friends, contact these days is mostly by internet and telephone. But this contact is probably more important now than before. By staying in touch and finding out that some have lost employment, closed businesses, had health or economic setbacks, I can at least give them some comfort, even if only to say "I understand." Getting my friends to talk about their problems helps lighten their load simply by sharing their circumstances. The process renews and enhances our friendship.
THIS TOO SHALL PASS: The situation is not going to last forever. When it ends, I hope to return to a full, active life. I look forward to new experiences in the weeks, months and years to come. My bucket list is longer now than it was five years ago, despite completing several wish-list items. None of us knows how long we have on earth, and I have resolved not to waste my remaining time (as I was guilty of doing in my youth). Yes, I like being active, but when I get tired of doing, I simply jump in the car and go for a drive. With summer around the corner, relaxing in nature lifts my spirits.
Let me know if you have other suggestions that I can try.
Roger Urbaniak can be reached at urbaniakr@comcast.net or send him a note via Northwest Prime Time, PO Box 13647, Seattle WA 98198