LIVING Celebration of Life
...by Helena Reynolds
In 2013, as we left the second funeral in just a few months, my husband of nearly 40 years stated, "I want you to play wiffleball at my funeral. It's great to see friends but I don't like that someone has to die before we get together. I want my funeral to be fun."
I told him to plan his own wiffleball funeral and if I'm around I'll call it a Celebration of Life.
Subsequently, in 2014 our family hosted our 40th Anniversary Party, which inadvertently became a "LIVING" Celebration of Life. Our daughter created a 40-foot photo display, our son produced a 40-year highlight DVD, and we told nearly 200 family members and friends thanks for all their support. We also heard stories of how our lives had affected many guests...and we played wiffleball.
Another LIVING Celebration of Life
In June 2018, my husband, Dave Reynolds, was inducted into the Puget Sound Senior Baseball League Hall of Fame at the age of 67. He carried 235 pounds on his 6'4" frame.
From October 2018 to March 2019, Dave nearly died from walled-off pancreatic necrosis, peritonitis and sepsis due to gallstones from his sludge-filled gallbladder. Doctors suggested removal once he recovered from constant dizziness, extreme fatigue, anemia, malnutrition, dehydration and a 60-pound weight loss.
Miraculously, on March 13, 2019, he awoke symptom-free and began working out to rebuild his atrophied muscles. When the gallbladder surgeon took images, she said it was now perfect and surgery was cancelled.
Dave began walking and doing sprints every other day. He gradually gained weight as his muscles redeveloped. He was able to return to work April 8, 2019.
He also returned to pitching. His first Puget Sound Senior Baseball League (PSSBL) game after his amazing recovery was on July 14, 2019. He even returned to the PSSBL all-star team, the Washington Titans, who placed 2nd in the 65+ division at the Roy Hobbs World Series in November 2019. The stats say it all: Of the eight pitchers on the 65+ team, Dave had the most innings pitched (17.5), the lowest ERA (earned run average) at 2.5, and he hit .421. Not bad for a guy who nearly died just eight months prior to the tournament.
But before all that, when Dave nearly died, I began preparing for a Celebration of Life by sending out hundreds of 2018 Christmas Cards, trying to update my contact list in case I needed it sooner or later.
In our case, it was sooner. We were excited to share that Dave had miraculously recovered and was living life to the fullest.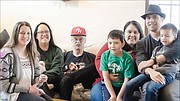 Because I had originally planned to retire on October 1, 2019 after my September 28 birthday, I used both events to commemorate our LIVING Celebration of Life. My family hosted my "Route 66" themed birthday party on September 28, 2019.
Why have a Celebration of Life ? To celebrate one's life after they are gone.
Why have a LIVING Celebration of Life?
To celebrate one's life while YOU can enjoy seeing, hearing and celebrating with YOUR family, friends and other loved ones.
So YOU can choose stories, music, photos and adventures to share as well as create YOUR own guest list.
So YOU can tell everyone how much YOU appreciate the impact they have had on YOUR life.
So YOU can enjoy hearing what others might want to share with YOU.