Village Theatre's "The 25th Annual Putnam County Spelling Bee" - Entertaining From Start to Finish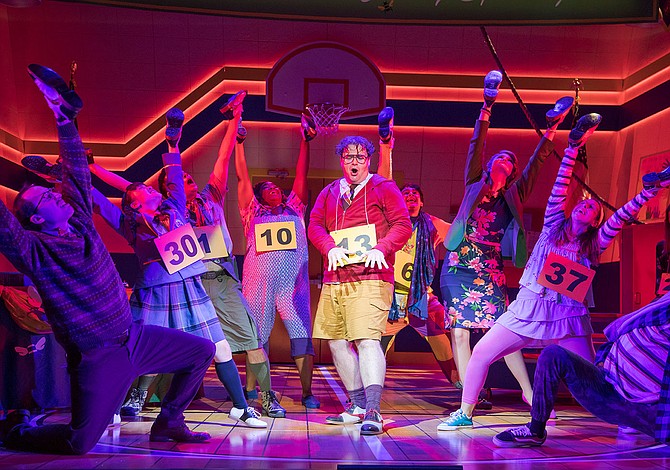 Village Theatre's latest offering The 25th Annual Putnam County Spelling Bee begins with a bang and never stops. During the 100 minutes (no intermission), the show is filled with delightful humor, singing, dancing and gags. It's not often that one gets to see Jesus Christ appear just because one of the characters (student Marcy Park portrayed brilliantly by Arika Matoba) curses in disgust.
And when was the last time audience members were called on stage working with the cast for a good portion of the show? That's what happens in Putnam County Spelling Bee. Four audience members who had been selected in advance were called up to join in the spelling bee.
So, (spoiler alert) if someone with a clipboard approaches you in the lobby prior to the show and asks if you'd like to be part of the Bee, know they're not asking about a short cameo. The four people who were brave enough to join in the night I saw the show seemed to be as comfortable as if they'd been at every rehearsal. That was especially true of the last audience member standing when she actually spelled a very difficult word (designed to take her out and off stage) correctly.
The audience cheered, and Brian Lange playing vice-Principal Douglas Paunch did not hesitate to call the woman back to the microphone and give her an even more difficult word, which she spelled incorrectly. Still, the woman who'd come to see the show remained on stage for a dancing and singing exit with the other cast members before she was escorted back to her seat in the theater.
The pace was fast, the jokes and pratfalls were funny and there were also touching moments as the six actual cast members portraying spellers worked through their issues as outcasts to learn a bit more about life, even if they did not win the coveted prize of top speller.

Here's how Village Theatre describes the show:
"Life is pandemonium" in this fast-paced and irreverent Tony Award-winning comedy. The 25th Annual Putnam County Spelling Bee follows an eclectic group of students as they vie for the title of regional spelling bee champ — hoping never to hear the soul-crushing, pout-inducing, life un-affirming "ding" of the bell that signals a spelling mistake. This witty coming-of-age story is bursting with heart, and Village Theatre's full-fledged production will be an unforgettable experience that chronicles all the joy, torment, and passion of those who love to compete. Six spellers enter; one speller leaves! At least the losers get a juice box...
Administering the entire Bee and narrating the performance for the audience was the incomparable Jessica Skerritt as Rona Lisa Perretti, former Spelling Bee winner. Skerritt and Lange (as Vice-Principal) keep pace in singing and dancing with the much younger students every step of the performance.
And nowhere is that more evident than when the cast display Village Theatre's usual extraordinary stagecraft in a number about speller William Barfee's Magic Shoe. All nine cast members perform a very intricate song and dance with shoes on their hands that is not to be missed.
The 25th Annual Putnam County Spelling Bee continues at Village Theatre in Issaquah through October 20 before moving to the Everett Performing Arts Center from October 25 through November 17.
L. Steven Sieden is a writer, event producer and global futurist. His books include "Buckminster Fuller's Universe" and "A Fuller View, Buckminster Fuller's Vision of Hope and Abundance For All". He has been reviewing Seattle area theatre and live entertainment since 2012.