Paul Magid: Founding member of the world-famous Flying Karamazov Brothers
Everyone's favorite juggling and comedy troupe returns to Seattle in September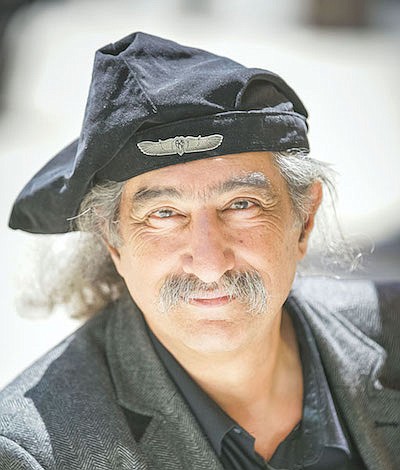 Strong Silliness Ties
His academic bent aside, theatrical performance intertwined with Paul's academic life in college. He and his friends started juggling in the dorms. The group became so well-regarded on campus that they opened for a theatrical production.
"Our show went better than the play we were covering," says Paul. "People really seemed to like it. We started performing more around college and went on to perform at fairs and on the streets."
The performers proved to be so successful that they were able to "quit the dumb jobs we all had to have to pay for college because we could go out on the streets and make way more money. It was wonderful!"
The group's iconic title, the Flying Karamazov Brothers, came about when one member was reading the famous book at the same time as the troupe was looking for a new name. Paul describes a fateful encounter: "We were hitchhiking on our way to perform at the Spokane World's Fair in 1974 and were picked up by a young woman in a VW van. Her name was Mary Sullivan; she was the niece of Ed Sullivan. Our group had been going by our last names, not very evocative. Getting picked up by Mary seemed very portentous and we decided to change our name to the Flying Karamazov Brothers." The book is full of dark, passionate people with distinct personalities, and the juggling troupe created a silly, circus version on that theme.
By 1975, the "Brothers" had created an hour-long theatrical evening and had also developed a stellar reputation for their ability to entertain and wow a crowd. The aim became to perform on Broadway. "In 1983 we got there!" exclaims Paul. They went on to perform on almost every continent in the world.
The Flying Karamazov Brothers are famous for amazing juggling tricks, music, theatrical adaptations, vaudeville-style variety and just plain silliness. One of their well-known tricks was called "The Gamble," where they juggle any three objects provided by the audience (the sillier or more difficult the better) and selected by audience applause. If the juggler can juggle all items for ten throws each, he receives a standing ovation. If not, he receives a pie in the face.
The group has appeared in the film The Jewel of the Nile, on Seinfeld, Mr. Roger's Neighborhood and national talk shows. Paul is set to star in a Miramax Film, Silent Retreat. When he spoke with Northwest Prime Time, he was preparing to rehearse for the Seattle show, and then leave the same night on a red-eye to upstate New York to work on the film. "I think it will be really funny," he says of the movie. But his schedule is "completely insane!"
New Old Time Chautauqua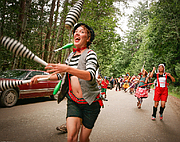 Another fateful encounter happened early in their career. "We were at the Oregon Country Fair, a wild, beautiful fair out in the woods. We had so much fun, but then it was over in three days," remembers Paul.
"We started thinking about what we could do to hang out together more and do something good for the community at the same time." Paul's friend, Max Gail of TV's Barney Miller fame, was working on a documentary about Chautauqua, an institution from the late 19th and early 20th century that traveled the country providing adult education and entertainment to rural America. "I started reading about it and thought we could revive the tradition," says Paul.