Zuzu It's a Wonderful Life: Karolyn Grimes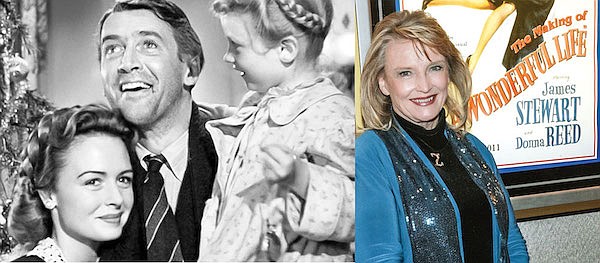 You may know Karolyn Grimes as Zuzu, the little girl in It's a Wonderful Life who declares, "Every time a bell rings, an angel gets his wings."
You may not realize "Zuzu" spent the last 20 years calling Washington State home.
"I fell in love with the place and decided this is where I wanted to live,' says Karolyn. She packed up and moved from her longtime home in Kansas City and proceeded to dwell in the quaint towns of Fall City, Carnation and Port Orchard. "I just love it."
Believe it or not, for most of her life, It's a Wonderful Life was just another movie to Karolyn. She was only six when it was filmed, but already a veteran actress. Her childhood career spanned 16 movies and she worked with film legends John Wayne, Cary Grant, Bing Crosby, Loretta Young, Betty Grable, David Niven, Fred MacMurray, Danny Kaye and, of course, Donna Reed and Jimmy Stewart.
When it first came out, It's a Wonderful Life was a box office disappointment that bankrupted Frank Capra's production company. That didn't matter to Karolyn. "It was just another job...I didn't care that it wasn't a hit." She went to opening night but fell asleep, and that was that as far as Karolyn was concerned.
While today the film is known as the ultimate Christmas movie, a clerical error meant the copyright wasn't even renewed on the "dud" and in 1974 the movie entered the public domain. Television stations could show it as many times as they wanted without having to pay a cent. People from around the country started watching it as a treasured holiday tradition. While a court case restored the film's copyright in 1993, without that clerical error the movie might still be sitting on a shelf in anonymity.
But its television exposure breathed new life into the film. By 1980, "people tracked me down and wanted to interview me," recalls Karolyn. "I started getting fan mail! And I thought, Jiminy Christmas, I better check this movie out." Up to that point, not being much of a television-watcher, she had never even seen the movie. "People were knocking on my door. Articles began to appear in Kansas City, and my story slowly spread to other areas." Interest in "Zuzu" eventually became international.
By then, Karolyn had long ago quit showbiz and her life had not been so wonderful. Her Hollywood career ended in her teens when her mother died from early-onset Alzheimer's disease and her father was killed in an automobile accident. As an only child, she was sent by the courts to live with a relative in a tiny town in Missouri. It was not a happy home, but Karolyn found solace in the townspeople who encouraged her to pursue an education. She became a medical technician.
Karolyn eventually married and had two little girls. That marriage didn't last, and she later married a man with three children. They had two more of their own, so Karolyn raised a family of seven. But the dark times were not over; her youngest child committed suicide at age 18, what Karolyn describes as the most devastating time in her life. As she climbed out of that despair, her husband of 25 years died from cancer.