Special Delivery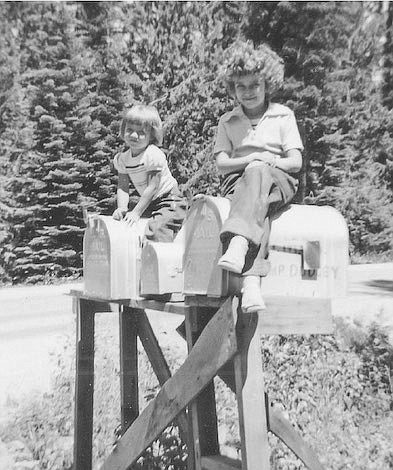 ...by Janet Hall Rich
Growing up on a farm in Eastern Washington, my little sister and I loved to spend time with Dad. He was up at 3:30am every day to milk cows and feed the livestock before leaving to deliver the mail. His mail route, from Naches to White Pass and Chinook Pass (250 miles round trip), was one of the state's longest routes through the most rugged and popular vacation areas in Washington.
In 1954, my sister Karen was six years old and I ten. Sometimes on a Saturday we would scramble into Dad's Chevy station wagon and help him deliver the mail. The Naches Post Office was a dour, sensible building in the middle of town. The quaint building smelled like dusty dry vanilla with a hint of Old Spice.
Dressed in green overalls, a dark quilted vest, baseball cap and his magnetic smile, Dad greeted the postmaster and joked with the other carrier before taking his position in front of a large wooden rack filled with holes. Each slot represented one of the 125 mailboxes on his route. Dad went to work sorting hundreds of pieces of mail: letters, postcards, advertisements and magazines along with the daily newspaper.
Meanwhile, my sister and I prowled the interior of the post office seeking adventure. One of our favorite pastimes was crawling into a large canvas bin filled with excess junk mail. We eagerly plowed through piles of colorful advertisements looking for free samples. Giggling, we opened envelope after envelope containing a variety of pills, hand lotion, soap, various gadgets and, at times, even razors. We could hear people entering the post office, picking up their mail and purchasing stamps from the postmaster. (A first class stamp cost three cents.)
Karen and I looked forward to visiting the restroom where we shared muffled giggles at the naughty pictures. All of the employees were men, which could explain the colorful pin-up calendars of scantily clad, semi-nude women. The revealing art never failed to shock and amuse us.
When Dad was ready to hit the road, he loaded 17 bundles of mail and an assortment of packages into the station wagon. Karen eagerly perched herself on top of the mail and I jumped into the passenger seat.
Keenly familiar with every curve and twist of the mountain roads, Dad sat in the center of the car's front seat, steering with his left hand and popping mail into the boxes with his right. As a contract carrier, Dad delivered express packages, sacks of feed, prescriptions and a few groceries for families who lived far from town. With a supply of Fig Newton's stashed on the dash, the station wagon was loaded down like a tramp steamer.
As Dad drove along the curving mountain highway, he handed me a stack of mail for the next stop. Once we finished a bundle, Karen gleefully pitched the next bundle into the front seat. I never knew what I would find inside a mailbox. Some folks kept a jar lid filled with coins to cover postage for unstamped letters; others contained money with a note requesting money orders, but my favorites revealed homemade baked goodies for us to munch on.
Dad knew everyone on his route and went out of his way to help people. He truly loved his job and once told a reporter, "I don't know how I'd get along without my people." It made me happy to hear Dad talking and joking with the people on the route. His broad grin and hearty laughter brought joy to everyone. His customers knew and trusted him. It wasn't unusual to see someone waiting at a mailbox to visit with Dad or ask him for a ride into town.
One of the highlights of the day was stopping at Trout Lake Lodge. The owners, Bess and John, were always pleased to see us. Karen and I enjoyed the rare treat of eating out and couldn't wait to order a juicy hamburger with fries. Over the years, Karen and I rode along with Dad hundreds of times, each trip a unique, scenic adventure. In the 36 years Dad delivered mail, he drove over two million miles, roughly 80 trips around the world. For Dad, every piece of mail was Special Delivery.