"Million Dollar Quartet" Is Rock & Roll Entertainment At Its Finest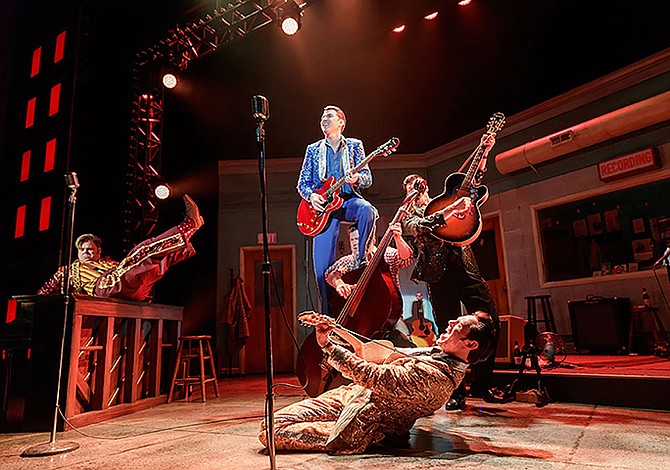 Million Dollar Quartet returns to the Village Theatre where it all began more than a decade ago and where it continues to delight audiences with nearly two hours of pure entertainment. The show recreates a December 1956 evening when Elvis Presley, Johnny Cash, Carl Perkins and a young Jerry Lee Lewis ended up at Sam Phillips famed Sun Recording Studio.
Although the story is somewhat light, the music keeps things rocking for the full 100-plus minutes of the show -- with no intermission. More than a traditional musical Million Dollar Quartet is a tribute concert to the early days of rock and roll. Elvis has been famous less than a year, and he's beginning to see that fame has its drawbacks. Johnny Cash wants to move on from working for Sun Records so he can record a gospel music album. Carl Perkins is still miffed because Elvis performed Blue Suede Shoes on the Ed Sullivan Show even though at the time it was Perkins' number one hit.
And then there's the new kid, brash teenager Jerry Lee Lewis who is brilliantly portrayed by John Countryman. Countryman keeps the show light, funny and rockin' by playing a fierce piano and looking to make his mark with the "seasoned professionals." Together, these four men plus Cayman Ilika as Elvis' girlfriend Dyanne perform plenty of fifties hits that keeps the audience engaged from opening guitar lick to the bright finale with the featured players decked out in dazzling costumes.
All in all, Million Dollar Quartet is a nonstop look back at a time and music that many of us thought was revolutionary and is now considered classic. It continues in Issaquah through June 23 before moving to the Everett Performing Arts Center from June 28 through July 28.

L. Steven Sieden is a writer, event producer and global futurist. His books include "Buckminster Fuller's Universe" and "A Fuller View, Buckminster Fuller's Vision of Hope and Abundance For All". He has been reviewing Seattle area theatre and live entertainment since 2012.