Temple hopping in mystical Bagan
Travels with Deb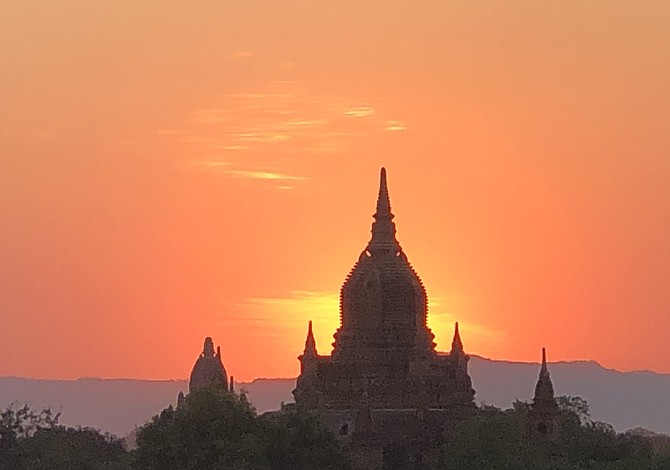 Our tour guide, Aung Ngwe, was a font of knowledge about all things Bagan. As we temple hopped, he regaled us with information about the monuments and their history, as well as about various facets of Buddhism. The pagodas range in size from tiny edifices to enormous multi-story fortresses. Some are gilded and ornate with impressively carved statues; others are simple shells with vestiges of hand painted images. There are also plenty of crumbling remains scattered across areas of deserted brush. Around the more popular temples, you'll encounter the majority of tourists, along with youngsters peddling postcards, painted canvasses and bootlegged books. But once off the beaten path, you can often wander around without barely seeing another soul.

A number of the temples are wrapped in scaffolding and in an obvious state of repair, primarily due to earthquake damage. Bagan is located in an active earthquake zone and has suffered from hundreds of earthquakes over the ages. The damage from these quakes, along with the effects of erosion, and neglect, has led to the destruction of thousands of sites. Major restoration efforts are helping to return some of the relics to their former glory.
There are so many monuments that it's easy to get overwhelmed. Choose quality over quantity to prevent "temple fatigue." Start with the Ananda Pagoda, probably the most famous pagoda in Bagan. Built in 1090, this 170-foot high masterpiece is also one of the best preserved. It's shaped in the form of a perfect Greek cross, with four entrances and projecting porticos, and vaulted concentric corridors that ring the inner shrines. The base is decorated with glazed tiles showing scenes from Buddha's life. Inside are four 31-foot tall gilded, wooden images of Buddha, of which two are original. The pagoda has a golden, shimmering spire that can be seen from across the plains.
Another highlight is the 11th century, multi-tiered Shwezigon Pagoda, famous for its ancient Buddhist statues, shrines, scripture and relics. Legend has it that a tooth and bone of Gautama Buddha are preserved in a shrine within the temple complex. One of the most striking characteristics of the pagoda is its bell-shaped stupa, which became the prototype for almost all pagodas built in later years in the country. Thirty thousand copper plates cover the structure, giving it an eye-popping, gold sheen (you'll need a pair of shades to gaze upon this masterpiece!). There's a small compound on site that contains figurines of all 37 Nats, or Burmese spirits. To appease these spirits, most who died a violent death and are known for their vengeful nature, people build shrines and make offerings to them.
The Gubyaukgyi Temple is a popular site. This "great painted cave temple" boasts spectacular murals inside, dating to the temple's construction in the 12th century. Its dark interior has thankfully protected the artwork over time. Such is also the case with Kyansittha Umin, a monastery of caves built into a cliff face. The caves are recognized for their frescoes depicting the invading Mongol armies of Kublai Khan.