Ed Hume
Northwest Garden Guru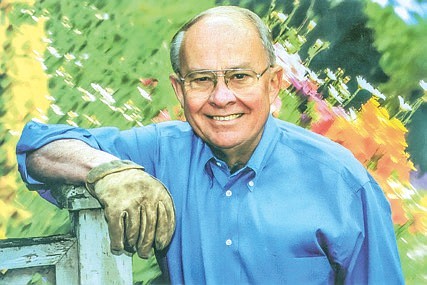 Ed Hume's record-breaking television program, Gardening in America, may have broadcast its final episode a couple of years ago, but it remains the longest continuously running gardening show in North America and possibly the world.
The show ran for 52 years and was watched in up to 50 million households across the country and Japan. The segments can still be seen on YouTube and Facebook.
How did this humble, mild-mannered Northwest native become a gardening legend known across the globe?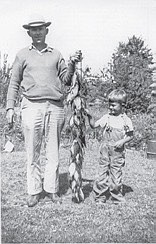 The youngest of six children, Ed Hume was born in 1931 in the north end of Seattle. "We lived kind of between the Bryant area and Hawthorne Hills, down in the gully there," says Ed.
Growing up during the Depression and WWII years, Ed was involved with gardening from a very young age.
"Dad leased some property at Sand Point during the war. We grew corn and beans, especially corn. When late summer came, we sold the produce to defense workers." As Ed recalls, his father was interested in protecting the properties for the Japanese owners who were taken away to internment camps following the attacks at Pearl Harbor. The gardens were tended primarily by Ed and one of his sisters, along with his hardworking father, who also had a fulltime job.
That experience in the family garden made Ed well-versed in vegetable-growing, but "As a child, I was very interested in gardening primarily from the standpoint of flowers. Then, during the summers when I was in high school, I started working at University Flowers and Bulbs." The owner, a teacher at Lincoln High School, didn't hold it against Ed that he attended Roosevelt, Lincoln's rival!
In 1950, Ed went to work at Malmo Nursery. "Clark and Jean Malmo owned 35 acres of what is now University Village. I worked for them for two years until I was offered a management position at Wight's Nursery," he said.
Ed was drafted during the Korean conflict and served in the army for two years followed by time in the reserves. "President Eisenhower put all of us on to serve an additional four to six years."
Wight's saved his job while he was in the army. Upon his return, he continued working at the Lynnwood location while serving in the Army Reserve unit in Everett.
"That's when I met Myrna," says Ed about his wife of 61 years. "Her sister was married to another reservist. We were at the Yakima Firing Center, and Myrna's sister wanted to visit her husband during summer training. Myrna, who was just out of high school, accompanied her sister. So you could say we had a blind date," reveals Ed.
Given his love of flowers, it makes sense that Ed wooed Myrna in part with blossoms. "One time I gave her a potted African violet and she really appreciated that. When young men give women candy or cut flowers they don't last long, but the African violet lived on." Ed has said one of his proudest moments was when he asked Myrna to marry him and she said yes.
Editor's Picks
<strong>There's no place like Home,</strong> Washington and its past. Home City, located ...