Cannabis Microdosing
Good Things Come in Small Packages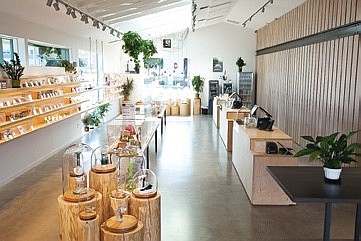 This article is sponsored by Dockside Cannabis
...by Sara Fletcher
As a culture, we are used to thinking that more is better. We shop for the biggest bang for our buck, buy in bulk where possible and look for products that boast the highest concentrations of active ingredients. But more isn't always better.
Cannabis, which has been decriminalized in our state, is often associated with overuse, the aimless hippie being the archetype for the movement. But experts, who have been using the word "microdose" regarding cannabis a lot lately, are finding pot to be particularly potent in petite portions.
What Is A Microdose?
Microdose: it means just what it sounds like! Merriam-Webster defines it as "an extremely small dose." In the cannabis world, a microdose refers to a dose between one and five milligrams of cannabinoids, which are the sought-after compounds found in cannabis. Instead of feeling lazy or paranoid or goofy from microdoses of cannabinoids, most people feel energetically balanced, focused, and relieved of physical and emotional distractions.
In fact, a 2012 study focused on cancer patients dealing with opioid-resistant pain. Subjects were given varying doses of THC to help with pain relief. The study concluded that the patients who received the lowest dosages of THC found the most relief. Another study in 2014 focused on THC in small doses and found microdosing to be particularly useful in the relief of neuropathic pain, which is so difficult to treat with pharmaceuticals.
How to Microdose
The easiest way to experiment with microdosing is by trying a cannabis tincture, which is a liquid infused with an extract of concentrated cannabinoids. Experts suggest starting with one drop at a time to find your ideal dosage. When dropped under the tongue and held for one to two minutes, the tincture will enter the bloodstream by passing through the thin skin on the underside of the tongue, which is called sublingual absorption. Most people feel the effects of cannabis taken using this method within 15 to 45 minutes, making it especially effective for dialing in dosage. Experts do still recommend avoiding more than one dose of cannabis per hour until you know your dosage. It helps to keep a journal to track what you are taking, the amount you've taken and how it makes you feel, so you know what works for you.
THC or CBD?
There are two main types of cannabinoids you will find featured in most cannabis products: CBD and THC. What is the difference? THC is what made cannabis famous: it's the compound in the plant responsible for making you feel high, but in small doses can help uplift the spirits, gently encourage appetite and help balance sleep cycles. CBD, for most people, is completely non-psychoactive, meaning it will not make you feel "stoned" and will still provide a myriad of benefits from alleviating anxiety and pain to reducing nausea. Studies show that using THC in combination with CBD is most effective for medicinal use, which is why visiting a cannabis store is a better option than finding an off the shelf CBD product, whose actual CBD dosage is unclear. CBD products made from hemp can be purchased at locations other than a cannabis store, but these products are not strictly regulated. They may be of lower quality and may contain unwanted ingredients including toxins.
Where to Start?
Luckily, in the state of Washington we have a lot to choose from because we have access to cannabis retail stores like Dockside Cannabis, the longest-operating medically-endorsed cannabis operator in the state. Your sales associate, or "Budtender" as they are called, can help you find what you are looking for—many stores carry both THC and CBD options separately, in tandem and blended to specific ratios. But it's important to consider what you want from your cannabis experience.
So, go ahead, explore your options in the cannabis world. You may find a little weed can help you find big relief. Just be sure to start low and slow, record your microdose journey and have a good idea of what you want to get out of your cannabis experience before you go into your local pot shop, so you walk out with a product that is a good fit for you. Good things have ALWAYS come in small packages, and cannabis is no exception.
Dockside Cannabis stores are located in Shoreline, Ballard, SODO and 85th & Aurora. For more information, call 1-844-362-5420 or visit www.docksidecannabis.com.