Taproot Theatre's "Arsenic & Old Lace" A Fresh, Hilarious Take On a Classic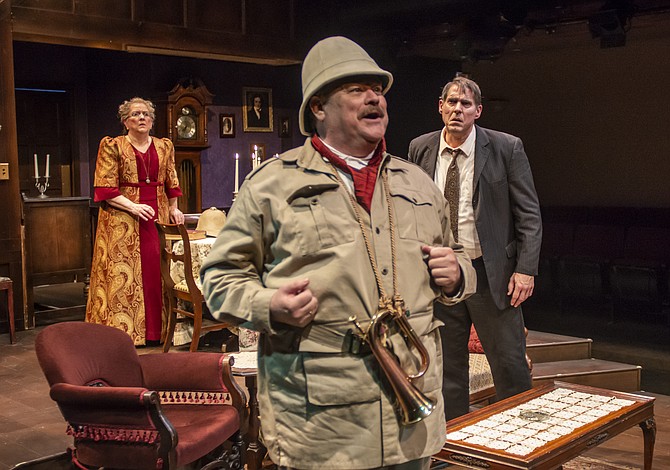 Taproot Theatre's latest offering Arsenic & Old Lace is a fast-paced comedy that sparkles with charm and entertainment. The family story centers on two elderly sisters and their "gentlemen" (men whom they poison and have their brother bury in the basement). This plot line might seem a bit grim, but it is just the opposite.
Acted and staged with Marx Brothers-like comedy pacing and a precision that has most of the cast of twelve flowing in and out of the small Taproot stage, Arsenic & Old Lace keeps the audience laughing from beginning to the final curtain. And the entire time, every patron feels almost part of the show in the intimacy of the Jewell Mainstage Theatre.
Although all the characters are brilliantly portrayed, special consideration must be given to Stephen Grenley as brother Teddy Brewster, a man who truly believes he is Teddy Roosevelt and David Drummond as brother Jonathan Brewster as the criminal in a part originally written for and played by Boris Karloff.
This somewhat dark comedy does have multiple murders that brother Mortimer Brewster stumbles upon and needs to solve, but that plot point often gets lost in the hilarity of each gag as the two elderly sisters see nothing wrong with their exploits. Then, there is brother Teddy constantly bolting up the stairs blowing his bugle, believing he's charging San Juan Hill during the Spanish American War.
All in all, Arsenic and Old Lace is a welcome humorous respite from the reality that most people face. It runs at Taproot Theatre through March 2.
L. Steven Sieden is a writer, event producer and global futurist. His books include "Buckminster Fuller's Universe" and "A Fuller View, Buckminster Fuller's Vision of Hope and Abundance For All". He has been reviewing Seattle area theatre and live entertainment since 2012.