Silver Dollar Day
Sharing Stories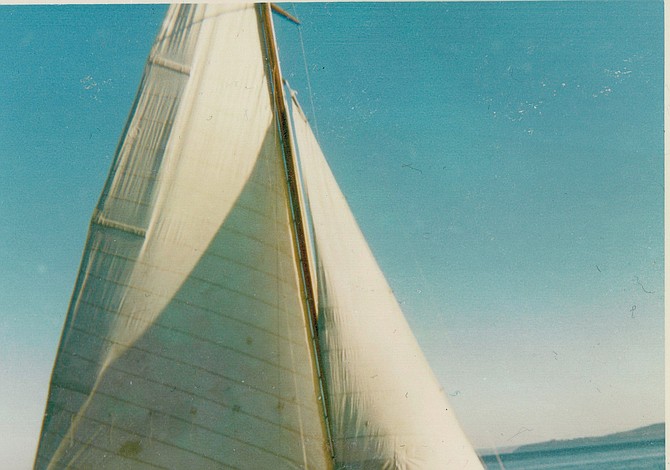 Silver Dollar Day
As his eldest daughter, and a bit of a tomboy, I was Papa's buddy growing up. Around age 10, I served as first mate on our 20-foot sailboat, Silver Dollar. Bobbing on a buoy in front of our house, she beckoned us. An avid sailor since boyhood, Papa was happy and carefree on the water. One bright morning, a fair wind blowing and the sun sparkling off the waves on the Sound, we set sail for Vashon Island. We had promised Mom to be home by lunchtime.
After a brisk sail, we landed on a remote stretch of sand. Silver Dollar's retractable keel enabled us to beach her. After securing the boat, we set off exploring. To our delight, all around us was a constellation of sand dollars, standing on edge through the glistening sand. As an aspiring Oceanographer, I was fascinated. Marine life was wondrous to me. I carefully chose a handful of sand dollars to take home to dry for my treasured collection.
Turning back, we realized, too late, the ebbing tide had left us high and dry. We had no phone, no food—only a jug of water. It would be many long hours until the tide turned and refloated the boat. Kind people in a home a far hike up the beach offered us cookies and use of their telephone.
Papa and I had the time of our lives that glorious day, partners in an unforgettable adventure well worth the trouble we caught upon our arrival home.
Michele Miller was raised in the Pacific Northwest, on the beach of 3-Tree Point. She lived in Alaska for 13 years, then came to her senses in 1995 and returned home to Puget Sound, now happily beginning a new chapter in Edmonds.
SHARING STORIES is a weekly column for and about the 50 plus crowd living in the Puget Sound region. Send your stories and photos to ariele@comcast.net. Tell local or personal stories; discuss concerns around aging and other issues; share solutions, good luck, and reasons to celebrate; poems are fine too. Pieces may be edited or excerpted. We reserve the right to select among pieces. Photos are always a plus and a one-sentence bio is requested (where you live, maybe age or career, retired status, etc.).
SHARING STORIES is featured on www.northwestprimetime.com, the website for Northwest Prime Time, a monthly publication for baby boomers, seniors, retirees, and those contemplating retirement. The newspaper can be found in the greater Seattle area and other Puget Sound locations. For more information, call 206-824-8600 or visit www.northwestprimetime.com. To find other SHARING STORIES articles on this website type "sharing stories" in the search function above.