Downsizing
Sharing Stories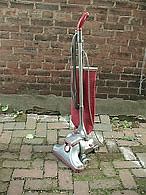 Downsizing
Times change. I am in a whirlwind
of downsizing. Clothes that fit
twenty or more years ago,
no longer worn, but will come back stylish—
someone else will become a fashion plate.

Retiring as a Seattle bus driver ten years ago,
a passenger asked, "What do you plan on doing?"

Laughing, I answered, "I'll finally clear out my closet
of high school pleated skirts." My little "joke."
I was ready, but still felt youngish and frisky.

A voice popped up, "You have your school clothes?"

I laughed out loud at the absurdity.
Times change. My loyal, thirty-year-old vacuum cleaner
sighed a dusty inhale. Duct tape, new bag—soft whispers,
worn and torn, kissing carpeted or hardwood floors.

I felt a lump in my throat as a friend carried
her out the front door—sadness, delivering
new meaning to vacuum cleaner attachment.

I search for a replacement, so many choices.
Can't turn back time—I wish for a magic wand,
no vacuum needed—bibbidi, bobbidi, boo.

I will step into the vacuum cleaner jungle
carefully, hoping to find a loyal, tame brand.
Times change. Even now, growing older,
I am ready to change, trying modern times.
April Ryan is a retired Seattle Metro driver and an actively working writer/poet.
SHARING STORIES is a weekly column for and about the 50 plus crowd living in the Puget Sound region. Send your stories and photos to ariele@comcast.net. Tell local or personal stories; discuss concerns around aging and other issues; share solutions, good luck, and reasons to celebrate; poems are fine too. Pieces may be edited or excerpted. We reserve the right to select among pieces. Photos are always a plus and a one-sentence bio is requested (where you live, maybe age or career, retired status, etc.).
SHARING STORIES is featured on www.northwestprimetime.com, the website for Northwest Prime Time, a monthly publication for baby boomers, seniors, retirees, and those contemplating retirement. The newspaper can be found in the greater Seattle area and other Puget Sound locations. For more information, call 206-824-8600 or visit www.northwestprimetime.com. To find other SHARING STORIES articles on this website type "sharing stories" in the search function above.