So many things to do with zucchini
Salad, sauteed or sweet - the options are limitless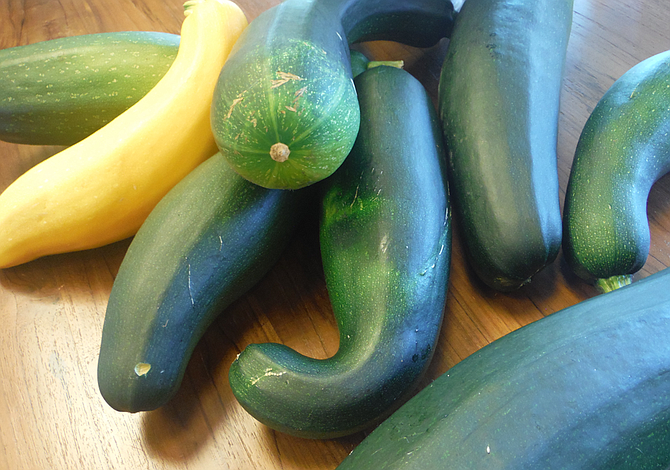 I do it every spring. I plant too many zucchini and summer squash. The plants look so small and insecure when I tuck them into the ground. Then in August I have a bumper crop of green striped zucchini, yellow summer squash and pattypan squash.
Over the years I've come up with many things you can do with zucchini. Here are just some examples. Maybe you can add your own ideas.
• Cut zucchini into short matchstick-like pieces and stir fry with other veggies like green beans, red peppers and broccoli. Serve over rice noodles, which cook fast.
• Use sliced zucchini instead of noodles in your favorite lasagna recipe.
• Make ratatouille using zucchini, eggplant and tomatoes, all of which ripen about the same time.
• Grate zucchini and add it to your favorite cornbread recipe.
• Make zucchini bruschetta. Dice zucchini, mix with garlic, basil, parmesan cheese and olive oil to top toasted rustic bread.
• Make zucchini latkes. Grate and mix with eggs, small amount of flour and fresh herbs, pan fry like potato pancakes. You can use the patties for a vegetarian hamburger patty substitute.

• Cut raw zucchini into long strips and serve with a low-sodium dip made of sour cream, yogurt, Mrs. Dash salt-free seasoning and fresh herbs.
• Make zucchini pickles. Cut raw zucchini and summer squash into long wedges and put in glass jars. Fill with cider or white vinegar, a few sliced hot or sweet peppers, and fresh tarragon, parsley or dill. These quick homemade pickles will last months in your refrigerator.
• Use a vegetable peeler to remove large, flat strips of zucchini. Roll up matchstick carrots, green beans, tofu and shrimp inside the strips and serve like Vietnamese fresh rolls, without the rice wrapper.

• Grate or chop and add to spaghetti sauce, or white sauce.
• Make raita, the cooling Indian salad. Grate zucchini and mix with yogurt, green onions, cilantro and cumin.
• Use in zucchini bread or zucchini cookies. For a more unusual treat, try zucchini-lemon sorbet or zucchini-lemon-mint popsicles.
• Grate 2 cups of zucchini and put in a zip-close bag, freeze and use all year long in the dishes above.
Fast Zucchini Sauté
1 zucchini or summer squash, or some of each
½ onion
2 tablespoons olive oil
2-4 tablespoons fresh basil or parsley
Cut squash into cubes, one-half to one-inch thick. Sauté finely chopped onion in olive oil, then stir in the zucchini while the oil is quite hot. Cover and steam it until it's tender. This searing seals the juices inside so the squash holds its shape and flavor. Add fresh herbs in the last minute of cooking. Serves 2
Nutrition info: Calories: 149, Carbohydrates: 6g, Protein: 2g, Sodium: 9mg
Summer's Harvest Zucchini Bread
1/3 cup butter
2/3 cup sugar
2 eggs
1 cup grated zucchini, packed tightly
¼ cup milk with 1 teaspoon vinegar added
¾ cup white flour
½ cup whole wheat flour
½ teaspoon baking soda (low-sodium preferred)
1 cup rolled oats
¾ cup fresh or dried apricots, finely cut
½ cup chopped walnuts
Heat oven to 350 degrees. Grease loaf pan. In a medium bowl, cream butter and sugar, then add eggs and beat. Mix zucchini with milk and vinegar mixture and add to butter and egg mixture. Next, add dry ingredients and nuts to batter. Pour into loaf pan and bake for 1 hour or until toothpick comes out clean. Makes one loaf. It's easy to double the ingredients and then freeze or give away the second loaf.
Nutrition Information
Calories: 232, Carbohydrates: 33 grams, Protein: 5 grams, Sodium: 112 milligrams
[Katy G. Wilkens is a registered dietitian and department head at Northwest Kidney Centers. The National Kidney Foundation Council on Renal Nutrition has honored her with its highest awards: the Susan Knapp Excellence in Education Award and the Joel D. Kopple Award for significant contributions in renal nutrition. See more recipes at www.nwkidney.org.]