River Cruise showcases Chicago's gems
Travels with Deb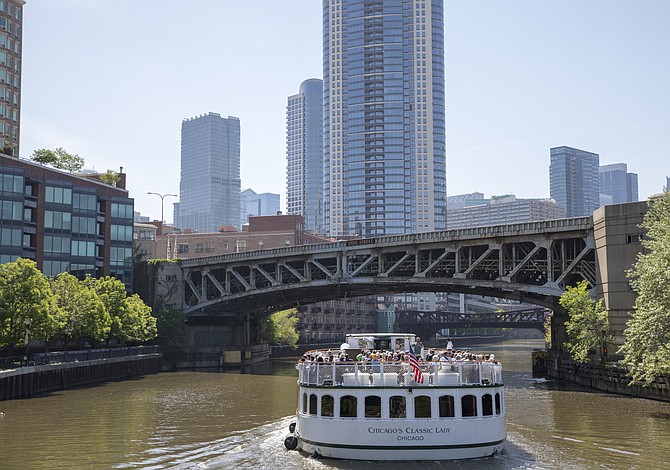 Kohn Pedersen Fox's Chicago contextualism style debut, 333 Wacker Drive, is often voted the most popular building by visitors. Its curved, shimmering, green-tinted exterior seems to reflect the color and flow of the river, as well as mirror surrounding structures. A number of buildings in the city share this quality, demonstrating the desire of architects to reference each other, as well as the landscape.
Another fan favorite is the historically inspired Tribune Tower. On the occasion of its 75th anniversary in 1922, the Chicago Tribune announced an international competition for a new downtown headquarters. In response, there were more than 260 entries from 23 countries. The winners were Hood and Howell, who designed a Gothic Revival tower using styles borrowed from the past. Incorporated in the structure's exterior are fragments of some of the most important historical buildings in the world. And carved in the walls inside are famous quotations from Benjamin Franklin, Voltaire, Thomas Jefferson and James Madison, extolling freedom of the press.
Impossible to miss is Willis Tower (formerly the Sears Tower), the tallest building in Chicago and the second tallest in the country. At a height of 1,451 feet, this icon was once the tallest building in the world. Its bundled-tube construction was considered groundbreaking in 1974 when it was first introduced by Skidmore, Owings and Merrill. The firm also designed Trump International Hotel and Tower, currently the second tallest building in the city.
Newer construction projects such as 150 N. Riverside and River Point are also attracting much attention. The former seems to defy the laws of physics. Designed by Goettsch Partners, it features a 54-story tower lodged into a narrow site that is constrained by the river on one side and rail tracks on the other. This feat of engineering is actually twenty times taller than its base is wide. River Point is located where the main stem of the river meets its two branches. The ultramodern structure sits behind rail tracks hidden in a tunnel – on top of which is a public park. The arched cutouts of the building reflect its shape and the curves of the banks around it.

Women architects figure prominently in Chicago's cutting-edge architectural scene. Among them is Jeanne Gang's firm, Studio Gang, which designed Aqua, an award-winning hotel and residential tower. The building's unique rippling balconies (each one different) and colored glass give it a sculptural quality and create the impression of water flowing down its sides. It's also planet-friendly with a host of energy-efficient features.
After your boat tour, make sure to take time to stroll along the scenic Chicago Riverwalk, a continuous pathway connecting the lakefront with the heart of downtown. You'll have the opportunity to get a different perspective of the cityscape, plus there's plenty of cafes and watering holes to stop at when the mood strikes. And the people watching is a recreational pursuit in itself!
For more information: www.cruisechicago.com
Debbie Stone is an established travel writer and columnist, who crosses the globe in search of unique destinations and experiences to share with her readers and listeners. She's an avid explorer who welcomes new opportunities to increase awareness and enthusiasm for places, culture, food, history, nature, outdoor adventure, wellness and more. Her travels have taken her to nearly 100 countries spanning all seven continents, and her stories appear in numerous print and digital publications, including Luxe Beat Magazine, Big Blend Magazines, Northwest Prime Time, Los Alamos Monitor, Traveler Confidential Magazine, Santa Fe Fine Lifestyles Magazine, AAA New Mexico Journey and Travelworld International Magazine, among others. Her work reaches well over 2 million readers and listeners representing a demographic of primarily affluent professionals and active retirees.